Frequently Asked Questions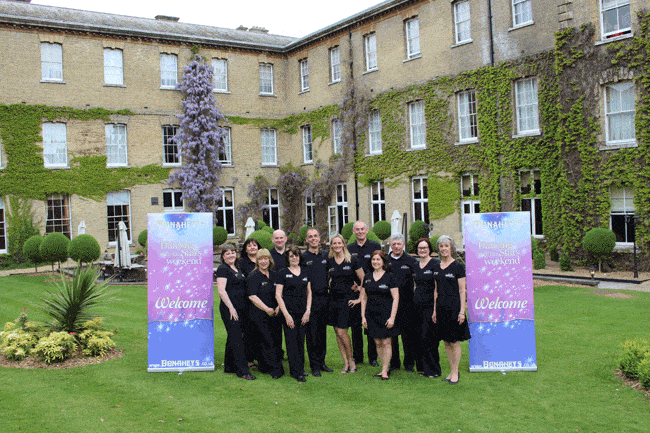 Firstly, tell me about Donahey's?
The Donahey's family have been organising spectacular dance events and teaching children & adults to dance across Manchester & South Devon for over 50 years. We pride ourselves on the quality of all our classes and events. Our hugely successful 'Dancing with The Stars Weekend's' are now in their 15th year – we thoroughly enjoy them and go out of our way to ensure our customers do too.
Donahey's is recommended by, and affiliated to the world's largest dance teacher's organisation, the International Dance Teachers Association – rest assured Donahey's have worked hard to establish a name you can trust along with an exceptional reputation in the Dancing world.
Are our Weekend Breaks endorsed by or associated with the BBC in any way?
No.
Are my payments protected?
Absolutely – Donahey's is committed to providing all our guests with Full Financial Protection, giving you 100% peace of mind.
For your peace of mind and to comply with The Package Travel Regulations 2018, Donahey's provides full financial protection for all your deposits and payments through the Association of Bonded Travel Organisers Trust Limited (ABTOT)
ABTOT provides financial protection under The Package Travel and Linked Travel Arrangements Regulations 2018 for Donahey's Events LTD (membership Number 5421) and in the event of insolvency, protection is provided for Non-flight packages.
ABTOT cover provides for a refund in the event you have not yet travelled. https://www.abtot.com/
I've never danced before is this weekend suitable?
Absolutely, this is a Strictly experience you'll never forget; Amazing shows to see, live music to enjoy, beginner dance lessons with the stars to try, questions & answers sessions – and so much more all under one roof. Plus of course you have all the facilities that the fabulous hotel has to offer you.
Our weekend is designed for enjoyment for all, whether you've never stepped foot on a dance floor before and want to sit back and enjoy the shows, or if your an experienced dancer and want to take part in the workshops & evening dancing. The level of your participation is entirely your decision, you can join in some of the workshops & dancing, or none at all – the choice is completely yours!
Who teaches the workshops?
The professional dancers from Strictly Come Dancing will teach 4 of your workshops. 3 hours of additional workshops will be offered by your highly experienced Donahey's team – and there is no need to pre-book these workshops.
What level of ability will the workshops be?
Unlike other dance breaks where everyone is simply joined together into one big group, we offer you dance lessons that are suited to your dance experience – perfect to help give you right experience, steps & enjoyment.
Workshops will be offered throughout the daytimes from beginners through to experienced, dance styles will include; Ballroom, Latin & Argentine Tango.
Plus, you'll have the chance to practice all those steps learnt with our online refresher facility available during & after your weekend*
*Available at a small seperate cost
What level of workshop shall I choose?
We offer 4 choices;
Absolute Beginners 0-3 months
These workshops are especially for those who have never danced before, or maybe taken just a few weeks of classes
Improver 4-9 months
Especially for those who have danced just a little before, perhaps you have a few basic steps in a selection of dances.
Regular Social Dancers 9 months – 2 years
Ideal if you have taken dance lessons for a while and enjoy attending some social dances.
Experienced Dancers 2yrs+
If you enjoy dancing regularly and have taken classes for a while this group is perfect for you.
When considering the above, please bear in mind that we simply wish to split guests into groups of about the same experience so you can all enjoy your lessons with the Strictly Stars – thats it! There is no-one judging or marking you, we simply wish to group people into those that have never danced before, those that have done a little before and those that have done a bit more before.
Please don't worry about holding any class up, the lessons will always progress with the Strictly Stars as planned. You may take away all the steps & technique taught in each workshop or just some of it – the main thing is you enjoy your time with these wonderful stars.
How many hours dance workshops are included?
You'll be offered over 7-hours of dance workshops, evenly spread across your whole dance weekend. 4 hours of Ballroom & Latin Dance classes with the stars of Strictly Come Dancing & Champions of the Dancing World – guaranteed for everyone and tailored specifically to your dancing ability. Plus an additional 3 hours of dance classes with Donahey's highly experienced dance teachers in our second stunning ballroom – again tailored specifically to your dancing ability.
We'll also offer a fun warm-up workshop Saturday morning, such as Latin Line – just to get you started nice & fresh.
Remember you can take part in as many or as few of theses workshops as you like – it's all upto you.
Do i need to pre-book any of my workshops?
There's absolutely no need to worry about pre-booking any of your workshops, we'll reserve you places in all the workshops for your dance level – so all you need to do is come along and enjoy.
I'm experienced in some dances, but not others
– how does this work?
Each of our workshops are tailored to the dancing ability of your group.
A group of experienced dancers in whatever form, we find pick-up new steps & rhythm much easier than a group of absolute beginners. So the overall progress in improver or experienced groups can be more rapid and therefore we can add more content & choreography for you in those workshops.
Don't worry, we don't anticipate everyone in every group will be Improver or Intermediate in that particular dance – just that they are dancers and able to follow and learn within a dance class easier than say absolute beginners.
Based on this, we would reccomend choosing a workshop level you feel most comfortable with as regrettably it is not possible to switch between levels for different dances.
What shall I wear?
The daytime is casual; the evenings will be smart look your best for some fab pictures! For your enjoyment Saturday evening will be a Black Tie Ball.
For dancing; on your feet something comfortable, dance shoes or flattish shoes – preferably not trainers. Suitable footwear with a non-slip sole MUST be worn at all times whilst on the dance floor. Regular sports trainers are not advised for dancing as they tend to stick to the floor. Strictly no steel, overly high or thin stiletto heels, steel toecaps, flip-flops, wedges or sandals to be worn on the dance floor and no bare-feet, socks or tights.
View our ladies recommended footwear photo guide here;
What kinds of age group attend?
Our Dancing With The Stars Weekend is designed for enjoyment by adults only and regularly attracts a mix of all ages so you can be sure of a fun time – some families bring along 3 generations!
Please note our minimum age is 18.
What is included in the price?
2 nights en-suite accommodation; Friday & Saturday 3-course evening meal; Saturday & Sunday morning Full English Breakfasts; Dancing Friday & Saturday evening from 8pm till midnight; Workshops Friday evening, Saturday daytime & Sunday until around 1pm; Dance showcases Friday & Saturday evening plus our grand finale showcase Sunday lunchtime, Black Tie Ball Saturday evening.
What happens at lunchtime?
Your hotel will have food, drinks & snack offerings available to purchase at various bars and restaurants across the hotel each day – so you can choose exactly what you would like such as a light healthy snack or something more filling.
Drinks & Lunch are not included in your package price.
What standard of accommodation are the hotels?
All the hotel's Donahey's chooses for our events are a minimum of 4 star standard. For more information on each of our hotels, visit the dedicated webpage;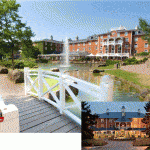 4* Alton Towers Resort Hotel, Alton, Staffordshire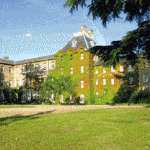 4* De Vere Beaumont Estate, Old Windsor, Berkshire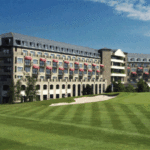 5* Celtic Manor Resort Hotel, Newport, South Wales
Will the Alton Towers Theme Park be open during our March Dancing With The Stars Weekend?
No, the Alton Towers Theme Park will not open until the following weekend.
Donahey's have exclusive use of the entire Alton Towers Resort Hotel for the whole weekend.
Can we make special room requests at our hotel?
Of course, if you have any specific hotel requests whatsoever such as; extending your stay either side at preferential rates, rooms close to your friends, low floors, near a lift or wish to upgrade your facilities simply contact the hotel direct. Contact No's will be highlighted in your confirmation letters
What happens in the evenings?
There will be fabulous showcases from the stars of Strictly Come Dancing, dancing for everyone plus on Saturday there will be live music with our 15-piece Big Band.
Can we sit with our friends?
Certainly, when you fill out your booking form, just tell us who they are and we will reserve you seating at the same table in the ballroom!
Your Ballroom Table
You will be reserved seating at a floor-side table in the Main Ballroom for the whole weekend.
The Programme
You will receive your complimentary 16-page souvenir programme upon registration with all the details of what we have to offer you over the weekend. I'm afraid due to production & printing deadlines we are unable to offer programmes in advance of the weekend.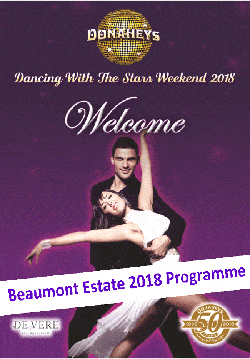 Download one of our previous Dancing With The Stars Weekend souvenir programmes here and see what our Alton Towers & Beaumont Estate weekends typically have in store for you. The above example is our April 2018 Beaumont Estate weekend….enjoy!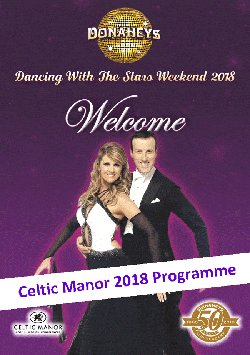 Download one of our previous Celtic Manor Dancing With The Stars Weekend souvenir programmes here and see what our Celtic Manor weekends typically have in store for you. The above example is our May 2018 Celtic Manor weekend….enjoy!
What time does the weekend begin on the Friday?
You are welcome to check-in to your hotel from 3pm onwards, 4pm at Celtic Manor. Dinner will be offered in the hotels main restaurant from 4.45pm – 7.30pm, our welcome dance commences in the main Ballroom from 8pm, the shows commence from 9.30pm.
On the Friday you will also be offered a one-hour workshop with the Strictly stars between 5pm – 8pm, timings are usually; Beginners 5pm, Social Dancers 6pm, Experienced Dancers 7pm.
What time does the weekend finish on the Sunday?
Our last workshop on Sunday should finish around 1pm, our grand finale showcase should finish around 2.30pm.
Photographs
Make sure you bring your camera for our exclusive 'Photo Calls' with the stars of the show, your chance to take some fabulous souvenir photographs of the stars.
I've booked my places – how can i make my final balancing payment?
To make a cheque payment, simply post your cheque, payable to 'DONAHEY'S EVENTS LTD', and tear off payment slip from your booking confirmation letter to; Donaheys Events Ltd, PO Box 126, Kingsbridge, TQ7 9BB.
To make a Direct Bank Transfer, our bank details are; Lloyds, Sort Code; 30-98-12, Account No; 14712860, Account Name; DONAHEY'S EVENTS LTD. Please ensure you quote the lead passenger surname & your booking code.
Once you have made a bank transfer, please simply return the tear off payment slip from your booking confirmation letter stating that you have made the BACS payment and stating the date the payment was made, many thanks.
Please allow us upto 10 days from posting payments/slips to receiving your confirmation receipt email, many thanks.
Can i pay in instalments?
Sure, to help spread the cost of your dancing weekend we are pleased to offer you the option of paying in 3 instalments. If at any time between now and the balance due date you would like to pay off some of the balance, you are welcome to do so by simply indicating on your payment slip from your booking confirmation letter the amount you would like to pay off, and following the notes above.
My partner/friends don't dance can I take part in the classes?
Absolutely.
My partner/friends dance at a different level to myself, can we each take the workshops appropriate for our own dancing ability?
Sure, It's absolutely fine for you to split for the dance lessons/workshops, no problem at all – just let us know on your booking form – we do get some do that. Naturally, you'll be sat together in the ballroom for the evening's dancing and shows, and of course in the restaurant for your meals – we just find it best to offer guests the options of splitting for workshops if you so wish?
If you choose to split for workshops please be aware we are unable to offer you partners in the workshops. If you choose to take part in all the workshops you are offered, due to the packed workshop schedule spread across 2 ballrooms, you should expect to spend most of the daytimes seperate from each other.
So we don't overcrowd workshops though, we wouldn't be able to accommodate both of you taking each others lessons as well – that wouldn't be fair on everyone else.
Can we book as two ladies?
Absolutely, many do. We often-welcome groups of friends, or family members to our dance weekends; Mother & Daughter, Sisters, Best Friends etc – we have a large allocation of Twin bedrooms available on all our weekends.
In terms of the dance lessons; You can book to take part in the same level classes or different level classes it's completely upto you. If you split we can't guarantee you a partner, if you stay together though in the same level often ladies will learn/dance together so they can practice & enjoy some of the dances learnt during the fabulous evenings.
I am a lady without a partner – can I come along?
Of course, we openly welcome ladies without a dance partner, however we are unable to provide dance partners over the weekend. Donahey's does not have a policy of offering male dance partners to ladies who attend our Dancing With The Stars Weekend without a dance partner and we do not rotate partners during any workshops. We ask you please, not to book our dance weekend under the impression that we supply dance partners for ladies, or that you will be dancing with the stars themselves, thank you.
Unfortunately, we have no single rooms or places available. Large comfortable Twin rooms are available for two-person occupancy, but not for single occupancy – sorry absolutely no single places or rooms now available.
Can i just purchase tickets for the dancing/workshops/show?
In terms of non-residential, or day passes, unfortunately it's not an option we offer I'm afraid. We don't sell day passes so you won't have different people dropping in and out of your weekend.
It creates a much nicer atmosphere when everyone is residential for the entire weekend. Mainly because you don't have different people dropping in and out across the weekend for certain classes or just evening shows.
Once guests arrive Friday afternoon, guests are shown to their table in the Ballroom, this is your table then for the entire weekend. We try and ensure all the guests on each table are in the same group for their dance classes, and that they have the same evening dining times – it really helps bond everyone, helping create a friendly atmosphere and an enjoyable experience for all our guests.
We've always run our dance weekends along these lines, and receive really positive feedback about this approach – people often book again requesting that they sit with their 'new weekend friends.'
Is the Alton Towers Resort Hotel, Merlin Group, De Vere or Celtic Manor connected in any way with the dance workshops & shows offered?
All the shows & workshops are organised by Donahey's – the dance experts. Neither Merlin Group, De Vere or Celtic Manor have any contractual responsibility towards guests in relation to the delivery of your workshops & shows.
Is our dance weekend associated with the BBC in any way?
No.
Donahey's is the trading style of Donahey's Events LTD
– Company No 4673588, registered in England & Wales.