5* Celtic Manor Resort Hotel, Newport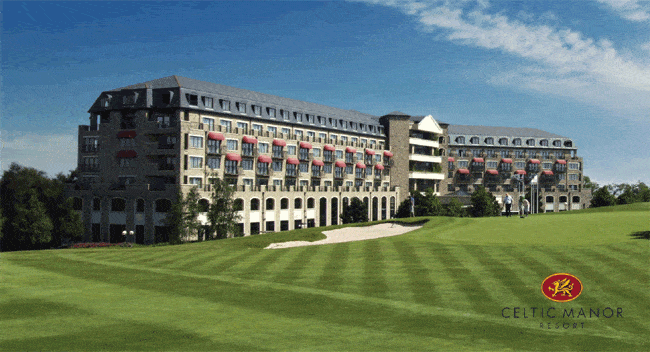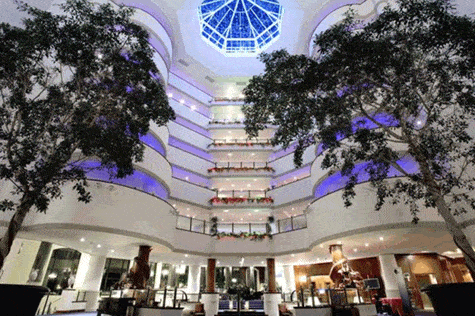 5* Celtic Manor Resort Hotel
The Usk Valley, Caerleon
Newport, South Wales NP18 1HQ
M4 J24, 15mins from Severn Bridge, Bristol.
The stunning 5* Celtic Manor Resort in South Wales is the perfect venue to host our 'everything under one roof' Weekend Break with the stars of Strictly Come Dancing.
Host of the Ryder Cup, this award-winning 5* resort is set in 2000 acres of parkland. This world-class destination features the award-winning Forum Spa, as well as 6 restaurants and 3 championship golf courses
– you're sure to enjoy the 5* luxury and seamless service at the Celtic Manor Resort hotel.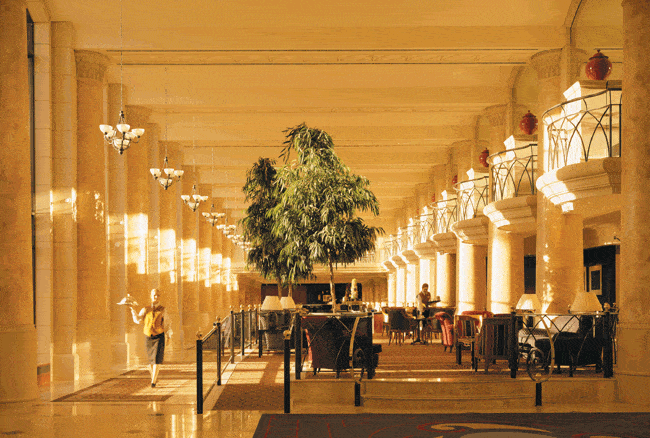 Celtic Manor's stunning Air Conditioned Caernarfon Suite Ballroom, at nearly 9,000sq ft, will offer us an amazing 5,000sq ft pro championship sprung wooden dance floor – one of the largest dance floors in the country.
Located just 15mins from The Severn Bridge in Bristol, The Celtic Manor Resort is easy to reach and has fabulous event facilities, just perfect to host our 5* Dancing With The Stars Weekend.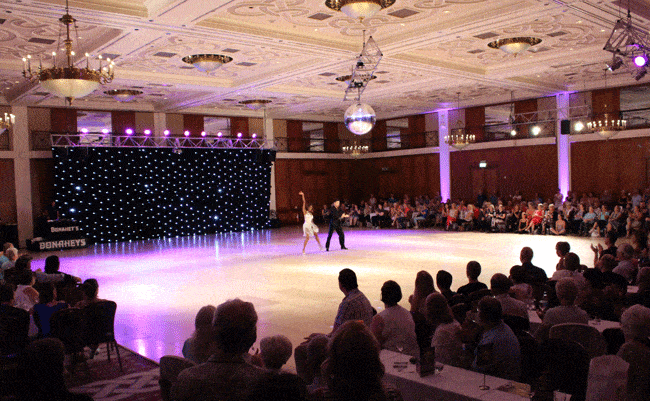 5* Weekend Breaks at Celtic Manor Resort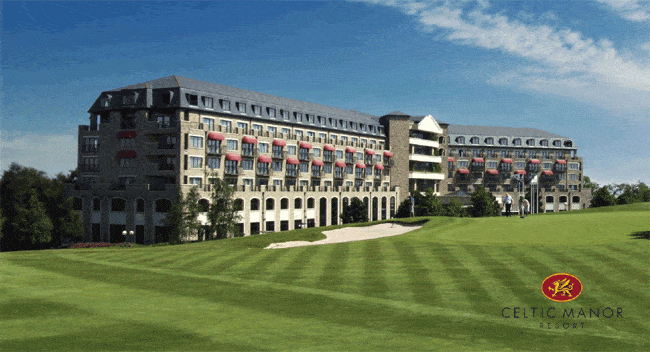 Friday 24th – Sunday 26th April 2020
5* Celtic Manor Resort Hotel
Newport, South Wales
Join your favourite stars of Strictly Come Dancing for an unforgettable weekend break.

View our event on the offical Celtic Manor Resort Hotel website here
www.celtic-manor.com/donaheys-dancing-with-the-stars-weekend
5* Celtic Manor Resort Hotel Photos
5* Celtic Manor Resort Ballroom 360 tour
5* Celtic Manor Resort Hotel – The Forum Spa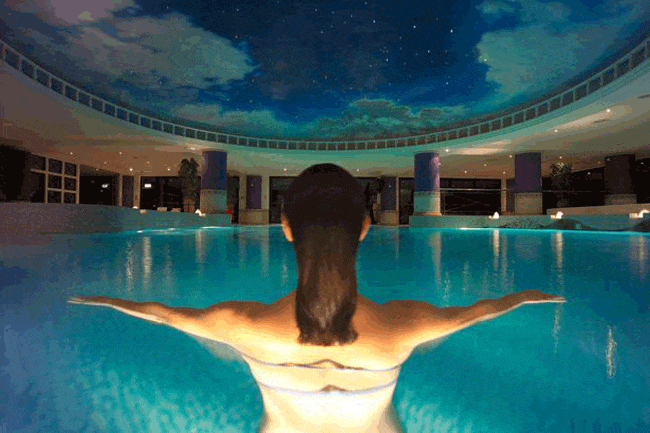 As well as the non-stop dancing there's plenty on offer to keep you entertained at this fabulous resort; You could pamper yourselves at the Hotels Luxury award-winning Forum Spa, book a hair salon or nail bar appointment, or choose your very own custom spa treatment?
Celtic Manor Resort scoops Best UK Hotel award again!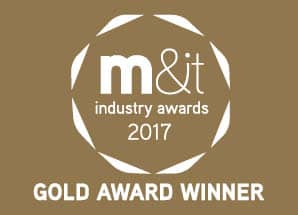 The Celtic Manor Resort has been named the UK's Best Hotel 2019 at the prestigious Meetings & Incentive Travel Awards in London.
The five-star venue in South Wales has been voted the UK's Best Hotel eight times.
As well as winning the hotel award, Celtic Manor was also a finalist in the Best UK Conference Venue category.
Celtic Manor Resort Hotel Tour
Celtic Manor Resort Hotel – Superior Guest Bedrooms

All Donahey's guests will enjoy Celtic Manor Resorts newly refurbished Superior Bedrooms.
Superior Bedrooms are beautifully appointed and decorated with distinctive design and traditional luxury to create a calm and relaxing environment. All bedrooms feature;
Luxury toiletries, hairdryer, iron and board
Laundry, pressing and dry cleaning service
Complimentary telephone calls to national landlines
Complimentary Wi-Fi internet access
Speakerphone with voicemail service
Large writing desk with reading light
Secure, electronic locking in-room safe
Satellite TV
Minibar
24-hour room service and an ice-maker on each floor
Air-conditioning with personal room controls
Heated towel rail
Safety deposit box service
Complimentary tea/coffee facilities
110 volt shaver sockets

The Signature Collection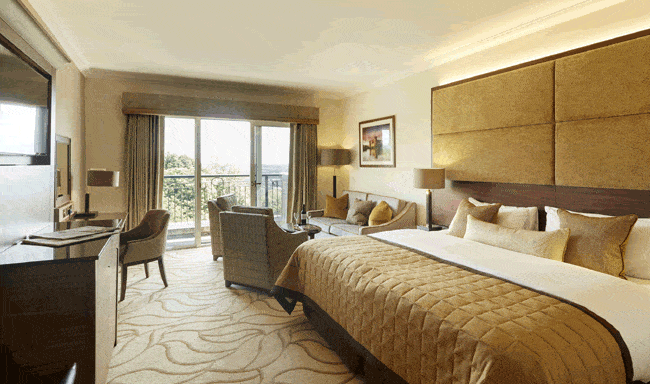 Situated on the sixth floor, Celtic Manor's stylish new Signature Lounge, rooms and suites come with a host of 'Little Luxuries' and added services to ensure you relax and unwind from the moment you arrive.
The spacious Signature Collection rooms are designed to the highest standard with a calming, light and modern feel. Designed for adults only, each room features a 6ft king-size double bed, sitting area, marble bathroom with a large vanity unit, bath and a separate shower with a host of Elemis amenities and balcony with stunning views out over the golf course.
Signature guests have unlimited access to the exclusive adults-only* Signature Lounge, situated on the sixth floor, where throughout the day you can enjoy complimentary tea and coffee, newspapers and magazines.
Signature Collection guests also enjoy further premium services:
Concierge Bag Drop – your luggage will be delivered straight to your bedroom.
Exclusive Signature check-in on the sixth floor
Guaranteed early check-in from 3pm
Evening turn-down service
Complimentary bottle of Prosecco and Welsh Cakes in your bedroom upon arrival
Exclusive 'Welsh Breakfast' in Celtic Manor's 'Steak On Six' restaurant
Unlimited access to the exclusive adults-only* Signature Lounge
Following a restful night's sleep, Signature Collection guests will be served 'Full Welsh Breakfast' in the exclusive surroundings of Celtic Manor's new sixth floor restaurant 'Steak On Six' – overlooking the beautiful Welsh woodlands.
Breakfast is served in the Signature restaurant from 7.00am to 10.30am daily and is for adults only. We recommend that you book in advance with Celtic Manor's Reservations Team to ensure a relaxing breakfast experience.
Signature bedrooms are available from a £65pp upgrade supplement.
Guest Reviews & Recommendations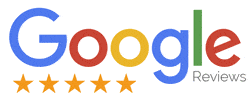 ingrid day
12:08 12 May 19
Amazing weekend! So good we have already booked for the same one next year! The Donahey's team work amazingly hard to ensure everything goes smoothly, and it is so very well organised. The stars are brilliant, both in their showcase dances and especially their teaching, explaining everything so well you can't fail to pick up the routines! Bring on next year when we hope to learn even more!!
David Hartley
07:29 12 May 19
Another fabulous weekend with Donaheys. Smooth organisation, beautiful venue and wonderful dancing, let alone the terrific teachers. Booked again for next year and we can't wait to go back. John & Miriam
Dr John Dennehy
09:24 10 May 19
We have just arrived home after a weekend with the stars at Celtic Manor Resort. Was our first time and as absolute beginners. Such an amazing few days. Everybody was so friendly and helpful.. The lessons with the professionals were good fun, and the interaction was fab. The showcases were stunning, one particular dance had me in tears. was fantastic to see the dancing so close up. We enjoyed putting our new found routines to practise on the dance floor both Friday and Saturday evening, especially Saturday at The Ball. Dancing to a live band was amazing. We did not want to come home on the Sunday. We have rebooked for next year at Windsor as closer to home. Great job Donaheys. No doubt our friends will be sick of us raving about this weekend but I cannot recommend it enough. FAB-U-LOUS DARLING. X
Angela Bedborough
17:45 01 May 19
We loved every moment of our first Dancing with the Stars Weekend at the superb Celtic Manor Hotel, Newport.Being taught by the Strictly Stars and World Champion dancers was a fabulous experience, and watching them showcase their own dances was breathtaking, as they glided around the amazing ballroom.The whole weekend was beautifully organised by Paul, Amy, Shirley and the team and Vicky was such a help to us too.A truly memorable weekend !
Elaine Keith-Hill
13:33 01 May 19
Just returned from our second Donaheys weekend dancing with the professional from strictly . Can not fault anything.....from the hotel (Celic Manor), the food, the service, the Donaheys team and of course the pros from strictly. AMAZING .......The workshops were great fun, we managed well even though we're more ballroom ( sequence ) than Latin but the pros had the routines well planned. Re-booked immediately for next year at Beuamont Grange 💃🎶💃🎶💃🎶Keeeeeeep Dancing
Another fabulous Donahey's Dancing with the Stars weekend. The Workshops led by the Strictly Stars and Championship dancers were entertaining and informative and the showcases were amazing. We attended Alton Towers last year, which we enjoyed tremendously, but this was our first time at the Celtic Manor and have to say that this venue, food and staff were all first rate. The hotel was easy to navigate and nothing was too much trouble. The Donahey's team are so friendly and helpful. Our weekend was superb and was well worth the outlay and journey. We would like to say a very big "thank you" to Paul and his team for all the hard work before and during the weekend to create a smooth running and enjoyable event. Just need to keep practicing all the new steps we have been taught. Congratulations on another excellent weekend. See you all next year!!
Maureen Barker
15:01 30 Apr 19
First one and much better than expected. Value for money is an understatement. The Donaheys team are such lovely hosts. The Workshops are extremely good and the Showcases are simply out of this world. Booked for July on the back of this weekends wonderful experience.
Our first Dancing with the Stars weekend, it was fab-u-lous. As absolute beginners we are leaving with the basic steps for Foxtrot, Waltz, Cha Cha, Argentine tango, Rumba, Quickstep and Jive. Now we just have to Keep Dancing!
yvonne loose
10:18 28 Apr 19
The weekend at Celtic Manor went way beyond my expectations. My wife and I are both beginners and never felt isolated or embraced one bit. The organisation of the weekend was first class, the participation of the stars was full on, not just a half hour hear and there, no a real interaction, very entertaining and extremely professional. The evening shows were absolutely stunning, again not just a quick 5 minutes, no a real performance with full audience interaction with question and answer sessions. We have been so impressed we have already booked for 2019 and have persuaded some friends to join us, this will be their first time. A truly fantastic weekend, very much value for money and one I cannot recommend enough. The Donahey family fully deliver what they promise, are interested in all skill levels and people, give time and energy to the weekend which enables you to really learn dances. Good fun and very memorable Thank you to all. Lloyd and Sue Snowden
Lloyd Snowden
18:27 24 Jul 18
'What a fantastic weekend we had at Alton Towers. Can't wait for next year. Thank you very much'
David and Barbara

'Thanks to all at Donahey's for putting together another amazing weekend. This was our third one, and we are hooked! All the workshops and professional shows were brilliant, as was the Tony Greenwood 15 piece band. Looking forward to the next one'
Ruth & John

'Dear Paul & Team, I just wanted to send you all a big thank you for last weekend, you have an amazing team and provide a fantastic few days, I just wish it was longer!! This was my first year but I have watched all of Strictly and been to the tour shows, but to see the pros perform up close, is just something else!! You really create a warm and fun atmosphere, along with a seamless programme. See you next March'
Sian

'Dear Paul, Thank you for an excellent weekend and yes we have already booked for next year. The weekend exceeded our expectations and it was a real pleasure to meet and talk to your mother and some of your team. You make an excellent team and I know that things only run smoothly with a team who work hard and plan well. Thank you again.'
Andy & Alicja

'A brilliant weekend thank you Donaheys'
Jo

'Paul, we've had a few great weekends with you both at Alton Towers and in the past in Blackpool; but this one was FAB U LOUS!!! That show on Saturday night moved us to tears and was breathtaking!!! Needless to say we've booked for next year! Thanks for listening to clients and continuing to strive to improve. All your hard work was appreciated.'
Christine & Steven

'The whole weekend was stunning; Thank you for an unforgettable weekend'
Pippa & Kevin

'We're looking forward to next year already. Thanks to everyone involved for making a super enjoyable and special weekend'
Simon & Alice

'Hi Paul, Danny and I just wanted to drop you a note to say how much we enjoyed the weekend. You and your staff never cease to amaze us with how organised you all are and how seamlessly things run. Every year we have enjoyed our weekenders but this year you all surpassed yourselves and it went to a new level. Having a showcase on the Sunday was just the icing on the cake and a fantastic way to end the weekend on a total high. We look forward to joining you on another weekender soon.'
Brenda & Danny

Map & Directions
Celtic Manor is conveniently located at J24 of the M4 in Newport, South Wales. Just 15mins from Severn Bridge, Bristol.
Newport Train station is 10mins away and has connections throughout Wales & England including direct trains to Manchester & London.