Learn To Dance With The Stars - Online Now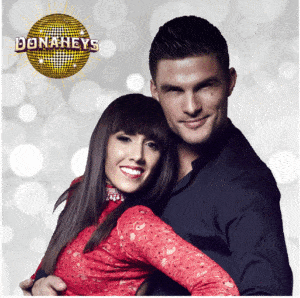 Join Strictly's Aljaz Skorjanec and Janette Manrara, Amy Dowden & Ben Jones plus many more in Donahey's fabulous Online Ballroom & Latin Dance Lessons.
Donahey's have brought together some of the UK's finest dance teachers directly into your home.
You'll learn fabulous steps, style & technique all with these amazingly talented couples, plus you'll enjoy practicing alongside them with full practice music.
You'll learn to to Cha Cha Cha with Aljaz & Janette, Jive with Amy & Ben, Waltz with Warren & Kristi & so much more – the choice is yours.
You can choose lessons for Beginners, Improvers or Intermediate, or all – Just don't miss out!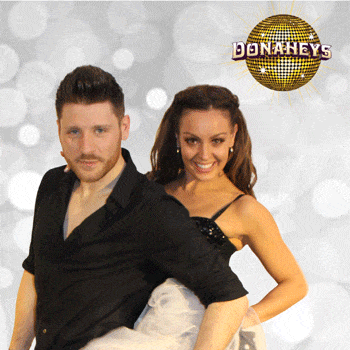 The lessons are easy to follow, enjoyable, plus feature a full music soundtrack – just perfect for learning and practicing at home.
Our lessons play across all devices, so you can enjoy on your phone, tablet, laptop or TV
Learn to dance with; Strictly Come Dancing Stars Aljaz Skorjanec and Janette Manrara, Amy Dowden & Ben Jones plus..
World Ballroom Champions Warren & Kristi Boyce, Leading Argentine Tango teachers Leandro Palou & Maria Tsiatsiani, Tony Bennett, Rising Stars David Cockram & Rosie Ward, Paul & Amy Donahey & more.
Plus, our lessons last & feel just like a regular 45 minute dance class – perfect for learning all the steps & style in detail.
Join us online now – just £29 per month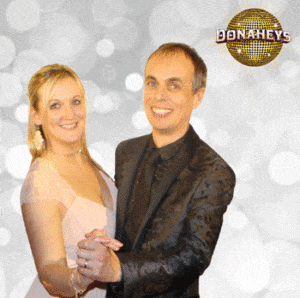 Let us bring the enjoyment of our weekly dance lessons and our fabulous Dancing With The Stars Weekends into your home.
There's no lengthy subscription.
You can enjoy Beginners, Improver & Intermediate lessons, so we guarantee there's exciting and enjoyable dance lessons just for you.
To keep things nice & easy we just ask you to pay monthly – all our lessons are included for just £29 per month. You can quickly & easily unsubscribe anytime and you'll still enjoy all the lessons for the remainder of that month's subscription.
Google Reviews & Recommendations
Donaheys on line dance lessons are a terrific idea.We are learning a lot of new choreography and also there are extremely good lessons on correct posture and Ballroom and Latin technique.The teaching is just superb and includes sessions taught by world champion dancers and Strictly professionals.You can see exactly what the teachers are demonstrating and this can often be very difficult in a normal class. It is almost like having private lessons.Having the three levels of lesson makes dancing accessible to everyone so don't be put off if you are a total beginner.It is truly the most excellent value for money.
Gillian Hayward
22:43 26 Aug 20
Paul and the team are excellent dance teachers. Paul has an amiable personality that is very disarming and welcoming. He is very patient with learners. Great communicator. The lessons are delivered in delightful bite-sized chunks which are easy to follow. The steps are repeated over and over until the learner gets it right. I was very apprehensive when I started but I was made to relax very quickly and enjoy the lessons. It is fun. My wife and I are thrilled with these lessons and will highly recommend the lessons.
Chris Oppong
21:40 08 Jun 20
A great initiative, we are really enjoying our lessons, would never have thought we could foxtrot around the kitchen thanks to David & Rosie. It's a great way to keep our enthusiasm for dancing going whilst we wait for venues to open again. Thank you Paul and team, great job
ray searles
17:17 05 Jun 20
Once again Donahey's delivers! These online classes are fabulous and great value. The quality of teaching is excellent we love the fact that we can pause, rewind and in general work at our own pace. Many thanks to Paul and his team.
kate hazle
14:49 04 Jun 20
Great teaching methods progressively encourage learning to dance to up to the minute music, at the same time as making new friends.. we have always felt encouraged plus the dance weekends with the Strictly stars are fabulous.The videos are a great support keeping us enthusiastic between lessons
Susan Morgan
19:46 31 May 20
We have really been enjoying the on line classes and they have given us a focus to keep up with our dancing during lockdown. I was a bit worried that we wouldn't have enough space but managed perfectly in our small dining room! The quality of the teaching is fantastic and the levels perfectly pitched. We're attempting to cover a dance per week across the month..look out Argentine tango! We came back from our Dancing with the Stars weekend at Alton towers all fired up to progress our skills and these lessons have done the trick! Thanks all.
Dee Desgranges
14:38 31 May 20
An exciting opportunity to enjoy ballroom dance tuition at all levels from some of the best professionals at a time when most dance classes are closed. When the lockdown is over and we can all get back to normal, this will continue to prove a boon to all those who would love to learn and practice dancing but have no dance schools locally.
Clive Rowlands
06:56 29 May 20
Exceptional teaching and so much fun!
david barratt
16:38 29 Oct 19
A wonderful way to learn. We smile throughout our lessons and it is addictive! A very kind and knowledgeable team. A great way to meet new friends and you dont necessarily need a partner. Also a great way to get and stay fit. Highly recommended!
These classes are F A B U L O U S ! Easy to understand, especially for a 'Dad Dancer' such as me. Funny, interesting but always great instruction in Ballroom & Latin Dances Paul & his team teach excellent classes, always a highlight to our week.
Justin Haque
11:46 23 Oct 19
Joining Donahey's ballroom and latin dance classes has been the best thing we have done in recent years.Paul's classes are friendly and fun. His light-hearted and patient approach together with his expert tuition has guided us from simple beginner to more complicated routines. We now have the confidence to venture out on to the dance floor and have a really good time. Thank you Donahey's team.Rosemary and Richard
Rosemary Pollard
20:49 17 Dec 18
Thinking Of trying some Ballroom Dance Lessons? Then don't hesitate.Paul Donahey's sessions are fun, well structured, and carried out at a sensible pace. You soon gain a sense of achievement in learning the enjoyable dance routines, and with it the bonus of a sociable atmosphere that promotes new friendships. We can highly recommend these lessons.Phil and Sally
Phil Cridland
17:23 14 Dec 18
Donahey's dance lessons are great fun and ideal for beginners and then improvers when you are ready to learn more complicated steps. The beginner classes are relaxed and friendly and are perfect for an introduction to ballroom and Latin dances plus they are great fun. Paul and the rest of the team take the time to ensure that everyone enjoys the lessons and it is surprising how quickly the dancing bug gets you.
Louise Brown
13:45 11 Dec 18
Since joining dance class at the Donaheys dance school I have benefitted from their professional and friendly tuition, leaning numerous dance techniques and styles. Definitely recommend joining for not only dance but it's society great fun and a good way to keeping fit.
Neville Coyle
13:44 11 Dec 18
I have been attending Donaheys with my partner for over a year now since my partner bought me a learn to dance in a day experience. I absolutely love the variety of dances we learn and Paul is such a friendly person and a great deal of fun. We often hear all the inside gossip of the strictly pros after their strictly Donaheys weekends which we are very keen to attend after our wedding! Want to learn ballroom? Then get down to Donaheys!
Ryan Procter
13:06 11 Dec 18
What can you expect when you join us online…
Premium Online Dance Lessons – both leaders & followers steps taught, demonstrated in partners, plus practiced to music – all so you can learn & enjoy dancing in your own home.
Lesson are available 'On-Demand', and our complete package allows you to dip in & out at any level.
You could be learning to Cha Cha with Aljaz & Janette, Jive with Amy & Ben, Waltz with Warren & Kristi or Foxtrot with David & Rosie – the choice is yours!
We're bringing the Donahey's Dancing With The Stars family directly to you….
1st month's lessons
Cha Cha
Aljaz & Janette
Argentine Tango
Leandro Palou & Maria Tsiatsiani
Waltz
Warren & Kristi Boyce
Foxtrot
David Cockram & Rosie Ward
Cha Cha, Waltz,
Rock 'n' Roll & Latin Line
Paul & Amy Donahey
Rumba
Andy Wong
Frequently Asked Question's
Absolutely, as long as you have 2 metres x 2 metres of clear space you should be able to join in our fab dance lessons.
Our lessons are designed & taught with learning at home in mind, and offer you the chance to learn new steps, dances, choreography & technique.
Yes, enrolment is simply per household - so for one monthly £29 subscription you can all enjoy the lessons - perfect.
Absolutely, our single subscription includes dance lessons at all levels.
You'll have access to all levels of lessons, so you'll be able to enjoy any of the Beginner, Improver or Intermediate lessons offered - they're all included.  So you could try our Beginners Cha Cha, Improvers Foxtrot & our Intermediate Waltz – the choice is all yours.  This is just perfect if you need to learn the basics in some dances, and develop your steps, style & technique in others.  All the lessons are included so you can try as many or as few as you like.
Each month you will receive direct access to a fabulous new selection of upto 20 Ballroom & Latin lessons.  These become immediately available to you every 30 days, to coincide with your monthly subscription renewal.
Absolutely.  As your subscription continues, you'll continue to enjoy access to all the 1st month's lessons, plus next month's lessons etc - just perfect for re-visiting past lessons and practicing along.  As an example, in your 3rd month you'll have access to all of our 1st, 2nd & 3rd month's fabulous lessons - 60 lessons overall, amazing!
Our Online Ballroom & Latin Dance Lessons is one inclusive monthly subscription of just £29 per calendar month - the equivalent of £6.45 per week.
None whatsoever, just pay per month and enjoy the lessons.  You can quickly and easily cancel your subscription at anytime.
You can enjoy all our dance lessons for as long as you're subscribed - perfect for re-visiting some of your favourite lessons and practicing them to the music.
Absolutely, you can quickly & easily cancel anytime - plus you'll still enjoy all the lessons for the remainder of that month.
You can enjoy all our dance lessons on your Tablet, Phone, Laptop & Desktop, plus stream to your Smart TV.
Unfortunately though, our lessons are not available for downloading.
Donahey's Premium Online Dance Lessons include
On Demand
Our monthly lessons are available On Demand – so you can enjoy them whenever's convenient for you.



Quality Dance Lessons
Both lead & follow steps are taught solo, then we demonstrate and practice in partners – just like a fabulous Donahey's class.
All Devices
You can enjoy all our dance lessons on your Laptop, iPad, iPhone, Android devices, plus stream to your Smart TV.
45 Minute Lessons
Our lessons last & feel just like a regular dance class.
Music Included
All our lessons use music courtesy of Ross Mitchell, His Band & Singers – one of the UK's leading dance bands. Each lesson finishes with a practice demonstration for the full length of the music – just perfect for practicing & dancing along with.
Bonus Technique
We've included excellent Bonus Technique lessons covering Hold, Posture & Style – perfect for honing those dance-floor skills.
20 Dance Lessons
A complete package of all levels –
Each month we'll present 20 new dance lessons for you to enjoy unlimited access too; Beginners, Improvers & Intermediate lessons in the core Ballroom & Latin dances, plus some fab Latino In Line for all to enjoy.
Unlimited Pause, Play, Rewind
You can pause all the lessons, rewind & even play them half speed – just perfect for picking up the steps & technique.
7 Day Money Back Guarantee
Get in, Start Dancing – If you're not 100% satisfied with these lessons just email us within 7 days of joining and we'll refund you – perfect for giving them a try!