Our fab-u-lous round-up of 2021's hottest Strictly inspired Christmas Gifts
Updated 6th December 2021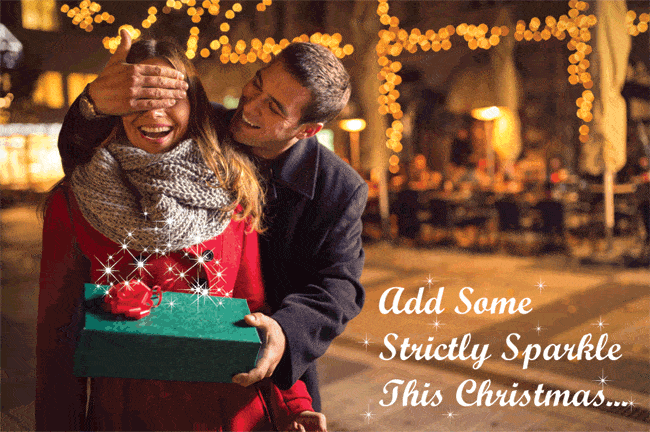 'It's beginning to feel a lot like Christmas…' too early? Well, we hate to jolt you out of your happy place, but the festive season is fast approaching. Stress not, we're about to make your Christmas shopping a whole lot easier with our Strictly inspired Top 10 Christmas Gift Guide.
1. Official Strictly Come Dancing Annual 2022
The perfect gift for the fan who likes to literally paw over images of the Strictly stars and absorb as many facts as possible about their favourite show.
Price: around £13
2. 4* Evening with the Stars of Strictly 2022
Score maximum brownie points for the most thoughtful present, book a Short Break with the Stars of Strictly.
Enjoy a fabulous evening as Strictly Judge Anton Du Beke & Erin Boag perform up close & personal for a truly intimate experience unlike any other.
Plus, learn to dance with the 'King Of Ballroom' himself in our fun dance lesson.
3. Strictly Come Dancing – The Glitter Ball Challenge Game
Whilst ardent Strictly fans may subscribe to the belief that nothing is as good as the real McCoy, they may just waver when they unwrap this Strictly inspired game. This hilarious family game has a revolving Glitter Ball that plays the Strictly theme tune and is perfect for 3-6 players and suitable for age 7+, sounds fab-u-lous darling.
Price: £18-£20
4. Official Strictly Come Dancing 2022 Calendar
The perfect stocking filler for any Strictly Fan looking to get organised next year. This official Strictly Come Dancing Slim Calendar features some of the famous Strictly sayings and includes 'Amaz-ing,' 'Sparkling' and '7' to name a few!!! The Strictly Come Dancing Official Slim 2022 Calendar is a must for any Strictly fan, with each month having a Strictly Saying to brighten up your month and plenty of room to write your notes and appointments..
Price: Around £8
5. Strictly Come Dancing DVD: Motsi & Anton's Strictly The Best [2021]
Join Strictly Come Dancing judges Motsi Mabuse and Anton du Beke, in this special feature-length DVD, as they revisit some of the show's very best and most memorable dances.
Watch along as Motsi and Anton each choose their favourite routine from all the Strictly dance categories including; Waltz, Viennese Waltz, Foxtrot, Quickstep, Tango, Cha Cha, Jive, Paso, Samba, Rumba, American Smooth, Argentine Tango, Charleston, Salsa and Couple's Choice, before ultimately deciding which one is Strictly the best!
Price: Around £9.99
6. Purple Strictly Come Dancing Drink Set
Pretty self explanatory this one and ideal for Strictly obsessives.
Price: around £15
8. Strictly Come Dancing CD
40 dance-inducing songs performed by Dave Arch and his wonderful Strictly Come Dancing Band that will have any Strictly obsessive up on their feet in no time. It's a must for any serious fan.
Price: around £4.50
9. Anton Du Beke – Book Collection & CD
If your nearest and dearest is completely obsessed with Anton (who isn't?), then they probably already own a smorgasbord of his merchandise. But do they have a copy of his debut CD, 'From the Top' his debut novel, 'One Enchanted Evening' or his brand new Novel 'We'll Meet Again' The romantic new novel from Sunday Times bestselling author Anton Du Beker'?
Price: 'From the Top' CD around £5 and 'One Enchanted Evening' & 'We'll Meet Again' hardback from £6.50-£12.99
10. Shirley Ballas – Behind the Sequins: My Life
Shirley Ballas has enjoyed a spectacular dance career spanning more than 40 years – she has Cha-Cha'd her way across the world's dance floors to become a multi-award-winning Latin and Ballroom champion, and one of the most renowned dancers in the world. In 1996, Shirley retired from competitive dancing to become a highly acclaimed coach and teacher.
Speaking from the heart, Shirley leaves her dancing shoes at the door to tell you the story of a fiery, strong-willed grafter, who danced through everything life threw at her and was never afraid to leave it all on the floor.
Price: Around £10