Well, that was a phenomenal show for week one of Strictly!
We think Bruno summed it up perfectly when he said, 'Tonight was one of the most exciting, surprising premieres of Strictly Come Dancing…everybody came out with something I wasn't expecting!' We couldn't agree more. If the calibre of dancing on Saturday night's show is anything to go by, we're in for a fantastic season of entertainment.
Which couples look promising?
Now that we've finally seen all of the couples dance, a few stood out for all the right reasons. Kelvin and Oti topped the leaderboard with an impressive score of 32 for their amazing Samba to La Vida Es Un Carnaval by Celia Cruz. Karim and Amy were just one point behind with their energetic Cha Cha Cha to If I Can't Have You by Shawn Mendes. Hitting the highs with a score of 30, Michelle and Giovanni wowed us with their Cha Cha Cha to So Emotional by Whitney Houston and Dev and Dianne graced us with an elegant Foxtrot to Build Me Up Buttercup by The Foundations.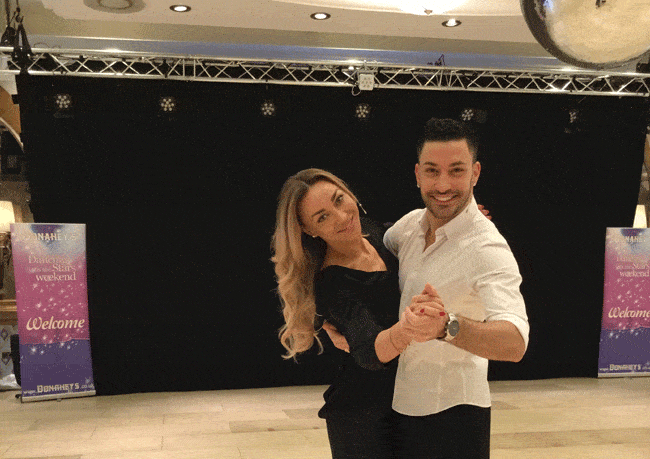 As if that wasn't enough, there were plenty of firsts too. For starters, Craig got out his 8 paddle more times in one night than we usually see during the whole season. And Bruno not only used his to score, but also to swat a pesky fly! Plus Kelvin and Oti's score of 32 was the highest for a Samba in any first week of the show in five years and Will and Janette's score of 26 was the highest for a Quickstep in any first week of the show ever.
Even more surprisingly Anton managed to stay off the bottom of the leaderboard! Thanks to a slick Jive to Honey Honey by ABBA with partner Emma, they found themselves nestled amongst the high scorers. Neil's four-year wait to dance with his own celeb partner on the show finally paid off with a pretty decent score of 21 for his Quickstep with Alex to I Get a Kick Out of You by Frank Sinatra. And new kids on the block, Catherine and Johannes, were close behind with a score of 20 for their Viennese Waltz to I Got You Babe by Sonny and Cher. That's pretty good going for their premiere performances with a celeb partner, don't you think?
Which couples underwhelmed the judges?
With the highs came the lows, but fortunately none of the couples felt the sharp edge of Craig's tongue this week. However, Emma and Aljaz, David and Nadiya, Anneka and Kevin, Chris and Karen, and James and Luba all found themselves on the bottom half of the leaderboard. Still, at least they had plenty of encouragement and constructive criticism from Shirley and Motsi – wasn't she great?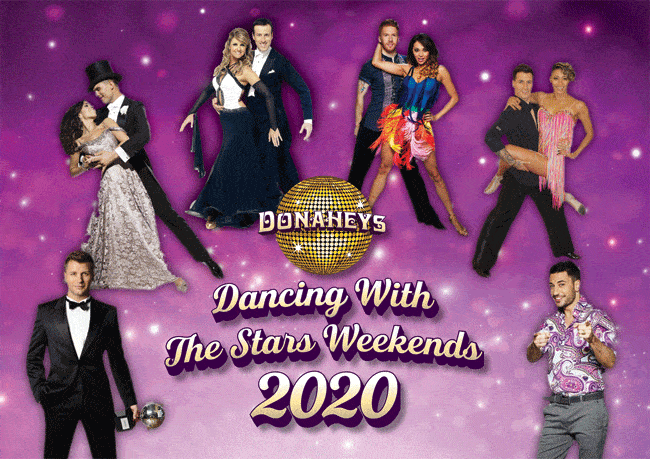 Week two's songs and dances
It's a new week so that means there's a new playlist and dances to master. So just what are the Strictly Celeb's and their Professional partners dancing this week?
Anneka and Kevin: Waltz to Run to You by Whitney Houston
Alex and Neil: Cha Cha to What I Did For Love by David Guetta feat. Emeli Sande
Catherine and Johannes: Samba to Let the Groove Get In by Justin Timberlake
Emma and Anton: Foxtrot to Sunshine of Your Love by Ella Fitzgerald, Ernie Heckscher Big Band and Tommy Flanagan
Emma and Aljaz: Tango to Sucker by Jonas Brothers
Michelle and Giovanni: Viennese Waltz to That's Amore by Dean Martin
Saffron and AJ: Cha Cha to One Touch by Jess Glynne and Jax Jones
Chris and Karen: Charleston to Out of Our Heads by Take That
David and Nadiya: Paso Doble to Espana cani
Dev and Dianne: Jive to Dance With Me Tonight by Olly Murs
James and Luba: Jive to Tutti Frutti by Little Richard
Karim and Amy: Foxtrot to The Way You Look Tonight by Frank Sinatra
Kelvin and Oti: Waltz to What the World Needs Now by Burt Bacharach
Mike and Katya: American Smooth to Rhinestone Cowboy by Glen Campbell
Will and Janette: Salsa to 1-2-3 by Gloria Estefan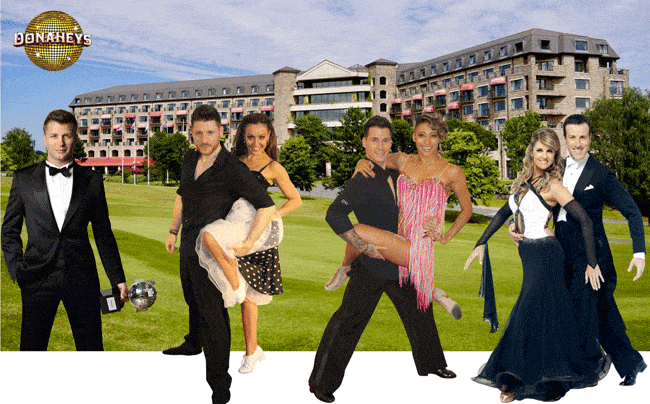 Missing Gorka and Pasha?
Of course we all missed Pasha and only got a fleeting glance of Gorka in the opening number and in the 'Clauditorium'. But not to worry, if you book our Dancing with the Stars Weekend at 5* Celtic Manor Resort you can see them both up close and personal in April 2020. Gorka will be performing with Karen Hauer and hosting brilliant dance workshops, whilst Pasha will dazzle you with his talent and even teach you to dance.
If you book your places now you can benefit from our great Early Bird Discount safe in the knowledge that our Weekend Beak Transfer Flexibility allows you to switch weekends should another engagement pop up. How's that for accommodating?!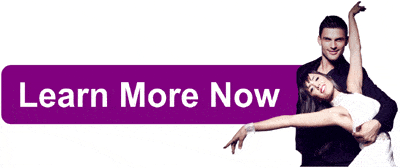 100% peace of mind
And just so you know, when you book one of our Dancing with the Stars Weekends we provide full financial protection for all your deposits and payments through the Association of Bonded Travel Organisers Trust Limited (ABTOT).