Dancing Is Good For You
You just have to look at the latest Strictly celebs to get your answer. Not only are we loving how much their dance ability has improved during their Strictly journey (sorry), but we're also hugely impressed by their personal transformations.
And we're not just talking the weekly skills applied by the costume, hair and makeup departments, no; we're talking the vast benefits of dance revealing themselves in all their wonderful glory.
Incredible weight loss
With the celebs putting in so many hours in the training rooms, it's no surprise that they've improved their general fitness levels, stamina and core strength. Whether they're perfecting a low-impact Waltz or mastering a cardio-driven Samba, the rigorous training has led to substantial weight loss for many and they couldn't be happier.
Graeme Swann recently revealed on 'It Takes Two' that he's already lost 2.5 stones. He also told the Mirror that his wife was keen for him to lose weight before appearing on Strictly and even bought him a pair of running shoes. She said, "Right, you can get fit, you're not going on telly all chubby." He said, "I suppose she would be pleased, if I ever saw her!"
His Strictly partner, pro dancer Oti Mabuse, also confirmed on social media how dancing has got him into shape, "The body transformation that @bbcstrictly has had on @officialgraemeswann has just been incredible."
But it's not just the male celebs who are relishing the positive effects regular dancing can have on the body. Kate Silverton revealed on 'Lorraine' that she can now fit into her wedding dress, previously worn eight years ago when she got married in 2010. Which is no surprise considering the Strictly costume team have already had to take her dresses in twice. She also told the Mirror, "I think I've lost a stone already, it's the Aljaz school of weight loss and my husband is very happy about that… nudge nudge. I feel liberated too! I was looking at my thighs today and I'm getting so much definition."

Faye Tozer is also reaping the rewards of dancing. She told New! magazine, "I've definitely dropped a dress size. I was between a size 10 and a size 12 and now I'm a size 10. I thought I was fit before but you're literally on your feet for at least six hours a day."
Improved wellbeing
But it's not just the body that benefits from dancing, the mind does too. Pretty obvious really when dancing is so much fun and boosts your happiness.
Dancing on Strictly helped Lee Ryan give up more than just a little weight. With the encouragement of his Strictly partner, pro dancer Nadiya Bychkova, he ditched the alcohol and shed weight during his Strictly training after she told him, "You should just knock it on the head." He reportedly told the Press Association at the beginning of October, "If anything I've lost a lot of weight, I haven't weighed myself but my clothes feel massively different and I just feel great. I've stopped drinking, I'm on the wagon. It's good, though, because I have in the past dabbled and struggled and gone to rehab and stuff so I've just decided that drink is not good for me and it's a really good thing (quitting). It's really good for me, it feels like quite a turnaround for my own mentality, which is not just for the show but for me personally as well."
Confidence boosting
Another positive effect of dancing was confirmed by Katie Piper in an exclusive interview with Hello! a week before she was eliminated from the show. She said, "I took part in Strictly as I knew I still had areas in my life where I don't feel as free and confident and this is one of them. I wanted to use the show as a tool to learn how to let go and feel sexy. I used to feel like this some years ago and would like to get a small bit of it back. Dancing definitely doesn't come naturally to me but it's about letting go and enjoying yourself – and that's what I did at my wedding and now on Strictly, but this time in front of millions."
So there you have it, dancing is good for the mind, body and soul.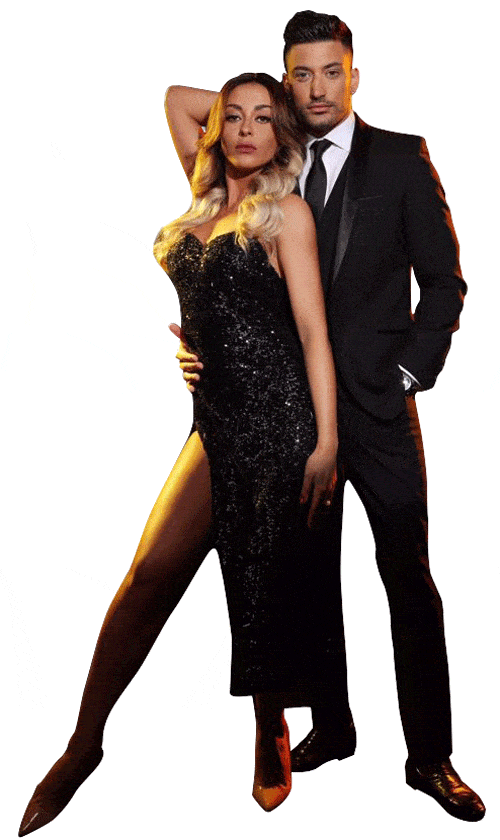 Learn to dance
If you want to become the best version of yourself (thanks, Stacey Dooley), have a go at dancing and improve your fitness levels, lose weight and have loads of fun along the way. As well as our fab 2020 Weekend Breaks with the stars of Strictly, where you can learn to dance with the shows incredible pro dancers, we also hold brilliant Ballroom Classes.
Our weekly Ballroom Classes are perfect for both beginners and improvers. You'll learn to dance the Waltz, Foxtrot, Cha Cha, Jive, Argentine Tango and many more with our team of highly trained dance teachers in a friendly and relaxed atmosphere.
Too busy to commit to weekly lessons but really want to learn to dance? Then why not Learn to Dance in a Day with our fab 1-day Ballroom Dancing Lessons in Manchester, Solihull, Reading and Bristol? Our 4 hour daytime workshop will have you dancing your favourite Strictly dances in no time and loving it.
Why not make learning to dance your New Year resolution and set the wheels in motion by booking a class today?