Our round-up of this year's hottest Strictly inspired gifts
'It's beginning to feel a lot like Christmas…' too early? Well, we hate to jolt you out of your happy place, but the festive season is fast approaching. Stress not, we're about to make your Christmas shopping a whole lot easier with our Strictly Top 10 Gift Guide.
1. Strictly Come Dancing Game
Whilst ardent Strictly fans may subscribe to the belief that nothing is as good as the real McCoy, they may just waver when they unwrap this Strictly inspired game. In fact, they may even become more bearable post Strictly once they discover it includes the voice of Craig Revel Horwood and the Strictly theme tune. We kid you not. Plus they'll get to show off their Strictly knowledge, take on challenges, compete in mini dance offs and be scored by Craig. The game is perfect for 3-6 players and suitable for age 8+ and sounds fab-u-lous, darling.
Price: £22-£29.99
2. Official Strictly Come Dancing Annual 2020
The perfect gift for the fan who likes to literally paw over images of the Strictly stars and absorb as many facts as possible about their favourite show. This eagerly awaited annual is available in October and is quickly snapped up by fans, so get a shimmy on if you want a copy.
Price: around £10
3. Weekend Breaks with the Stars of Strictly 2020
Now those gifts are all well and good but if you want to score maximum brownie points for the most thoughtful present, then you need to book a Weekend Break with the Stars of Strictly. And if you do it as a surprise, well, your place in the good books is a dead cert. Your loved one will be eternally grateful that you've treated them to a weekend away in a 4* or 5* luxury hotel, given them the opportunity to learn to dance with the Strictly pro dancers and to watch them perform stunning dance showcases.
Want to find out more? Feast your eyes on this lot then;
4. Strictly Come Dancing Wine Glass & Chocs
Not that watching Strictly necessarily induces the need for a stiff drink, but it's a good excuse for any fan to settle down on the sofa with their favourite tipple. Not only is this glass perfect for just that, it also comes filled with star shaped chocolates.
Price: around £14.99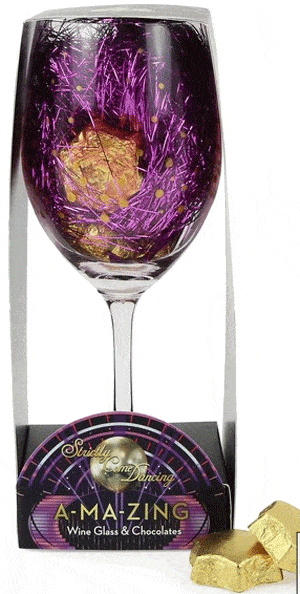 5. Strictly Come Dancing Judges Masks
The perfect stocking filler or secret Santa gift that will allow the recipient to don the face of a Strictly judge or presenter and channel their persona. Will they play nicely as Darcey, Shirley or Tess? Or play the fool as Bruno or Claudia? Or will they opt for the pantomime villain that is Craig?
Price: around £8.99
6. 'I'd Rather Be Dancing With Giovanni Pernice' Mug
Pretty self explanatory this one and ideal for Giovanni obsessives or perfect to annoy peeps who are not big fans of the Italian dancer. But that wouldn't be in the spirit of Christmas, now would it?!
Price: around £7
7. 'Eat, Sleep, Strictly' Vest
The ideal gift for any Strictly fanatic who can't help but blabber on about Strictly at any given opportunity. They'll definitely get the message with this gift.
Price: around £12.95
8. Strictly Come Dancing CD
40 dance-inducing songs performed by Dave Arch and the Strictly Come Dancing Band that will have any Strictly obsessive up on their feet in no time. It's a must for any serious fan.
Price: around £4.50
9. All things Anton Du Beke
If your nearest and dearest is completely obsessed with Anton (who isn't?), then they probably already own a smorgasbord of his merchandise. But do they have a copy of his debut CD, 'From the Top' or his debut novel, 'One Enchanted Evening'?
Price: 'From the Top' CD around £5 and 'One Enchanted Evening' hardback from £6.50-£12.99
10. Number 10 Glitter Paddle
For a fan that can never score lower than a ten, the Number 10 Glitter Paddle is just what they need to validate their opinion. Warning: likely to induce the overuse of Len's catchphrase, 'It's a 10 from Len'.
Price: £3