Spend the evening with Strictly Come Dancing Judge & Finalist Anton Du Beke & Erin Boag at the fabulous 4* De Vere Beaumont Estate Hotel, Windsor, Berkshire.
Enjoy a fabulous evening as the Strictly stars perform up close & personal for a truly intimate experience unlike any other – You'll learn to dance with the stars, plus hear all about their Strictly experience.
Situated in picturesque Old Windsor is the historic Beaumont Estate. This magnificent 4* De Vere Resort Hotel incorporates a stunning Ballroom, fabulous Restaurants, wonderful architecture and modern refurbished bedrooms – all set in spectacular and extensive grounds.

Book Securely Online Here
Google Reviews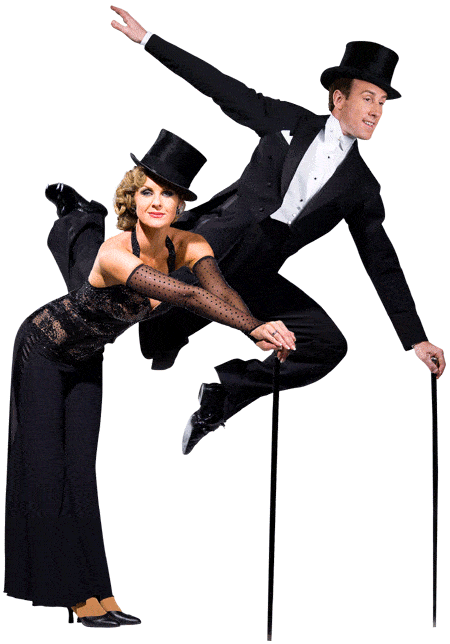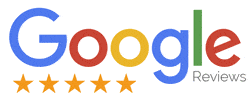 The Donahey's Dancing With The Stars Weekends are Fab-U-Lous.The organisation is second to none, every little detail has been thought of and the Donahey's staff do everything to make your weekend enjoyable.Seven hours of dance workshops with Top Class teachers (including the Strictly Stars). Plenty of time to practise and then Dancing through the night in the Stateroom Ballroom.The Show Dances from The Strictly Stars and the other Professionals are worth it on their own.We've already booked next year and looking forward to itTrevor & Brenda

Trevor Cooke
12:58 12 Mar 20
The whole weekend was amazing from start to finish. The organisation is superb and the people are all so friendly. When you break down what you get it really is value for money. This is an event to look forward to year after year.

Kerry Garner (Oldfleet)
18:06 11 Mar 20
Just back from a stunning weekend at Alton Towers Dancing with the Stars! The whole experience was fabulous from start to finish. The communication from Donaheys before, during and after the event was good. The organisation of the workshops was superb...we were in the improvers group ...each one pitched perfectly for the ability level and the teaching was great. Obviously the Strictly stars were lovely as expected, but also the world champions and the Donaheys staff were terrific. We have fallen in love again with Argentine Tango particularly. The showcase dances were spectacular every time, breathtaking performances in a cabaret setting. The Donaheys team were always on hand to offer support and guidance both on and off the dance floor and the hotel staff were friendly and accommodating. We loved dancing to the band on Saturday night!By the end of the weekend we were exhausted....in a good way! Thank heavens for the on line workshop reminders, as we did so much our recollection of all the steps is a bit hazy! We needed no nudging to book again for next year before we left. Many thanks and best wishes to all the team.

Dee Desgranges
14:48 11 Mar 20
Just back from a FAB-U-LOUS weekend at Alton Towers Resort Hotel.Is the first time we have ever been to an event like this, infact, its the first time my other half and I have ever danced!Everything was organised to a tee, the workshops, the showcases and the evening events.The Donaheys staff were on hand throughout the weekend to assist in anyway and they were so helpful and not at all judgemental as we had never danced a steep before!The only fault in the whole weekend, and it is NOT related to Donaheys. We the lighting in the bedrooms and bathrooms. It was so incredibly dim that it was a struggle to put make up on! Not sure how anyone would manage if they had to take medication. But, this was NOT a fault on Donaheys and it didn't stop us from having an amazing weekend.

Wendy McLaughlan
13:01 11 Mar 20
First time here, what an absolutely fantastic amazing weekend, Melanie & I loved it... and our first time having dance lessons!!! If you love dancing you will love these weekends!!!Everyone is so friendly & helpful. We have already booked for next year, fingers crossed as better dancers. Xx

lyndon holt
14:23 10 Mar 20

Carol McAllister
10:47 03 May 19
A huge Thank You to Paul and the whole Donaheys team. Just back from an amazing experience at Celtic Manor. The organisation, the workshops and the showcase evenings where truly spectacular. We enjoyed every minute. The hotel and staff are first class.All the strictly stars, professionals and experienced teachers made the workshops interesting, challenging and fun. we came away with new steps from each of them. Already booked for next year. The weekend is good value for money, and worth every penny. We enjoyed it so much we extended our stay. You have a fantastic team working with you. Well done to all of them and again THANK YOU.

Deborah Lisle
19:39 02 May 19
Brilliant weekend yet again. So good I had already booked to go back twice this year. Atmosphere, lessons and the show dances by Strictly stars are outstanding. Already booked again for next year.

David Wares
07:34 01 May 19
Another fabulous Donahey's Dancing with the Stars weekend. The Workshops led by the Strictly Stars and Championship dancers were entertaining and informative and the showcases were amazing. We attended Alton Towers last year, which we enjoyed tremendously, but this was our first time at the Celtic Manor and have to say that this venue, food and staff were all first rate. The hotel was easy to navigate and nothing was too much trouble. The Donahey's team are so friendly and helpful. Our weekend was superb and was well worth the outlay and journey. We would like to say a very big "thank you" to Paul and his team for all the hard work before and during the weekend to create a smooth running and enjoyable event. Just need to keep practicing all the new steps we have been taught. Congratulations on another excellent weekend. See you all next year!! Colin & Maureen Barker

Maureen Barker
15:34 30 Apr 19
This was a truly spectacular weekend.Donaheys and Alton Towers were extremely organised and everything ran smoothly.The dance classes were excellent (though we struggled with the Argentine Tango).Dancing with the Strictly Stars was amazing. All of the stars were so friendly and excellent teachers.However, a special shout out is required for Tony Bennett who took the Samba and Tango classes. What a fabulous teacher. I would pay for a weekend of lessons just with him.The three shows were breathtaking. The price paid for the weekend would be worth it for the shows alone.The weekend was a wonderful experience and I would highly recommend to dancers of any level.Thanks to Donaheys!

Sarah Brian
18:27 18 Mar 19
This was our 4th Donaheys weekend and the 3rd atthe Alton Towers resort.Over the years we have been fortunate to have been to some excellent workshops, but this has to be the best year yet.Equally, we've previously been able to provide some constructive feedback for the resort, but NOT THIS YEAR. Truly excellent all round.Alton Towers staff very professional on check in and in the restaurant. Check out was seamless, just dropping off the room keys.Car park better marked out.Food in the restaurant even better than previous years. ALWAYS had gluten free options available.7 dance classes over Friday, Saturday and Sunday, in 2 ballrooms with the large ballroom having a truly excellent floor.3 shows (2 evening and 1 on Sunday lunch). Friday night' show was superb, as was Sunday's, but Saturday night's was worth the money alone. Truly outstanding.So hats off to all involved.Already booked for next year.

Tony Dyson
18:12 16 Mar 19
Another brilliant weekend. Well done all. Can't wait for next year, already looking at new dresses. What can I say - brilliant lessons, meeting the stars from Strictly, dancing the night away on the best dance floor ever - add to that a big band, friendly helpful staff and a nice venue - what else could you want from a weekend. Oh, to remember what you have learnt - that's covered too with videos. We appreciate all your hard work that goes into making these weekends so special. Thank you.

Susan Peacock
21:17 15 Mar 19
Our 11th time being part of Donaheys amazing dance weekends. We introduced 4 new people who all had a fab time & have already booked again for next year! We can't recommend these weekends enough for anyone who loves dance, be it doing the workshops or simply watching the incredible shows. We shall be back in April at Celtic manor & are already counting the days. Thank you Paul, Amy, Shirley & all the team.Kay & Sean Escott

kay escott
13:29 15 Mar 19
Fantastic weekend and so much value for your money. Very high standard of workshops and feel so privileged to be taught by three wonderful Strictly couples and see their fabulous demonstration dances.

Colette Foan
13:09 15 Mar 19
As relative newcomers to ballroom dancing we weren't sure what to expect, but we shouldn't have worried. Donaheys gave us a fabulous weekend. The professionalism of the event was outstanding, from pre-information, joining instructions and weekend programme, super all round. All the lessons, and there's lots of them, were fun and within our ability and the showcase dances by the professionals made the evenings a "real night out". The hotel was everything that you would expect and were well looked after in terms of food and service. In fact it was all so good that we rebooked, before we left, to go to Celtic Manor next year.John and Caroline

John Spain
12:55 15 Mar 19
Fab-u-lous!We have just returned from the Dancing with the Stars weekend at Alton Towers Hotel. What an amazing weekend it was, and the organisation was just incredible! Everything runs like a well oiled machine, but at no time do you feel pressured to go to a dance workshop, you can take things at your own pace and attend as many or as few as you like! As avid Strictly fans, my husand and myself had never danced before, so we were in the beginners class. Excellent way to start a dance journey, and to also be taught by the Strictly Stars, Karen and Gorka on Friday, the Cha Cha Cha, Aljaz and Janette on Saturday, the Waltz, and Giovanni and Luba on Sunday, the Jive was truly great fun and they are excellent teachers. We were also taught the Quick Step on Saturday by Warren and Kristi Boyce, the most amazing dancers and teachers! The showcase dances performed by all of the Professionals left us in tears of joy, made us laugh, and we were in awe of their energy - if only! We also had the privelige of seeing some up and coming dancers of the future, Amy and Sasha, Mark and Ilenka, who were an absolute credit to the profession. What an amazing weekend it was, Donaheys you deserve 10 stars for one of the best events we've ever attended in the many years we have been going to entertainment events! Thank you and Keep Dancing!

Just had our first weekend at Alton Towers, we had a brilliant time, really well organised. The social dancing was great fun, and being up close with the dancers was amazing. There are two things I would change/review , 1) the food at dinner wasn't great, and there is no excuse for a hotel to serve food on cold plates. This is not Donaheys fault, but worth mentioning. 2) The red carpet photo call is just a photo opportunity, due to time constraints etc, there isn't the ability to have any individual photos. But make sure you get to the red carpet on the Saturday black tie ball as they look amazing.We've booked again for next year and can't wait ! This weekend has encouraged us to join a Dance School, hopefully next year we may be wearing blue wristbands!

Whether you are into Latin or Ballroom dancing, attending a Donaheys Dancing With The Stars Weekend is an absolute must!During the course of each weekend, which runs from Friday evening to Sunday afternoon, you will get to see showcases performed by Stars from Strictly Come Dancing, attend classes delivered by the Stars themselves, and have great fun social dancing on an amazing dancefloor (which, on the Saturday night, will be to the live sounds of a big band).For the weekend's classes, each dancer is placed into one of three groups, depending on their dance experience. This allows instruction to be delivered at levels suited from beginner through to advanced. So, no-one will feel out-of-depth, but at the same time, all will be challenged.Throughout the weekend, the large contingent of friendly Donaheys staff are constantly on-hand to help, and always with a smile.Once the weekend comes to an end, and you start to depart the luxurious hotel that hosts the event, you will feel like you are leaving your (new) family.The Donaheys Dancing With The Start Weekends are a definite highlight to my year! I truly can not recommend them, nor the Donaheys staff and the regional regular dance lessons they run, highly enough.(In June of 2017 I attended the Chesford Grange weekend. In March of this year, 2018, I attended the Alton Towers weekend. I very much look forward to attending at least one of their weekends in each coming year)

Nigel Gotts
17:41 12 Mar 18
The Dancing with the Stars Weekend at Windsor organised by Shirley, Paul and Amy truly exceeded my expectations! It was a fantastic experience dancing with the Strictly Professionals and of course the talented Donahays team too! Wall to wall quality, very well organised, great fun and highly recommended. So much so that I have already booked for Celtic Manor in May 2018.

We had the best weekend! We were complete beginners who were made to feel so welcome by all the team - fantastic sessions from all the pros and team of experts. The shows were amazing - everyone so personable. Thank you so much - cannot recommend highly enough!

Kathy Hardy
19:29 13 Jul 17
Its difficult to find enough superlatives to describe these amazing weekends. We have just attended our 8th, and it was as fabulous as ever. The Donaheys team are so welcoming & helpful, the workshops great fun & informative and the evening shows are breathtaking. We are once again already booked on 2 for next year & already looking forward to them both. We Cant recommend them highly enough. Thanks to all involved

Sean Escott
13:21 22 Jun 17
Another fantastic weekend with Donaheys at Chesford Grange.To see the showcase dances from the edge of the dance floor is amazing.The dance lessons from the Strictly Stars and Donaheys staff are really enjoyable.Well worth a visit for those who want to dance, and those who just want to watch...

Richard Mills
13:12 20 Jun 17
Best. Weekend. Ever. The organisation and staff are just superb. The work shops are so enjoyable and then the show cases in the evening round of a fantastic day. Highly recommended if you love dancing/Strictly!

Many thanks for the last 6 years of fun filled Donaheys dancing with the stars weekends. Great work shops. Fabulous show cases. Well organised professional events. Already booked and looking forward to year 7 next year.thank you shirley paul amy and team. Enid and Brenda.

enid williams
08:54 11 Jun 17
Absolutely fantastic weekend on the Strictly weekend dance break in Manchester. So well organised.

Natalie Walker
18:07 16 May 17
Probably the Rolls Royce of weekend dance breaks. Intensive learning combined with a great ballroom experience alongside fellow minded intermediates and improvers. Whoever your particular Strictly Stars are, be in no doubt that Warren and Kristi are the real gems here. Scintillating !Can't thank Paul and the team enough. Top Marks

derek andrew
15:10 13 May 17
Thank you Donahey's for another fabulous, well-organised and fun weekend. First class, friendly tuition from the Strictly stars and Donahey's team encourages everyone, including beginners, to get up on the dance floor and give it a go. The professionals' show dances were truly amazing and seeing their skills at such close quarters was a real treat.Richard & Rosemary

Rosemary Pollard
20:28 10 May 17
We have been on at least 5 Dance Weekends and enjoyed them all. The workshops from the Strictly Pros and the Donahey's teachers are excellent and great fun. The showcases from the Pros in the evenings are spectacular. To be able to see them dance close up is a real treat. If you love your dancing then this is a weekend well worth the money.

Paul Penny
09:32 10 May 17
Dancing with the stars. Wow! What a Wonderful Weekend!This was our second time and seems even better. The organisation is brilliant. The professional dancers are amazing and make the workshops a joy.This is an experience not to be missed.

Clive Rowlands
09:45 07 May 17
Was bought this experience for Christmas and I can honestly say this has got too of been the best present EVER!!I was absolutely blown away by the whole weekend, the lessons, the staff and the professional dancers.The strictly dancers are just wonderful and put on an absolutely fantastic show.As a non dancer I was given time and help with the lessons and each teacher was lovely, I can't fault anything.The location was lovely and the Hotel was an extremely nice place to stay, the room was lovely and modern.I had a wonderful time and will be returning in 2018.Well done and thank you for an experience I will never forget and may quite possibly become a repeat returner!!!

Johanna Evans
19:52 04 May 17
Strictly's Anton & Erin chat about Donahey's 4* Weekend Breaks…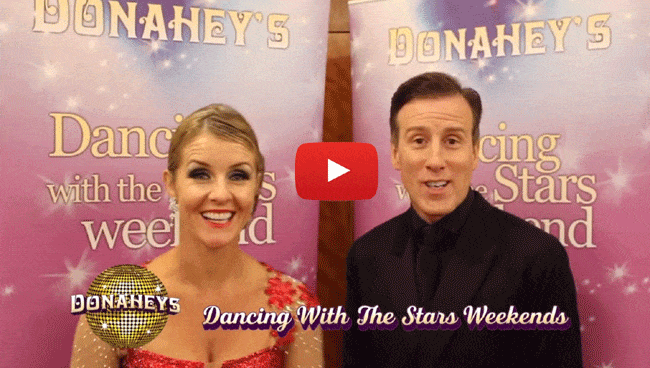 Full Financial Protection – Giving you 100% peace of mind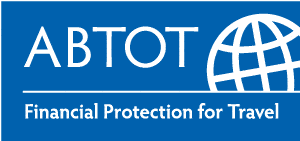 Donahey's have been organising Weekend Breaks with the Stars of Strictly Come Dancing for over 15 years.
For your peace of mind and to comply with The Package Travel Regulations 2018, Donahey's provides full financial protection for all your deposits and payments through the Association of Bonded Travel Organisers Trust Limited (ABTOT)
ABTOT provides financial protection under The Package Travel and Linked Travel Arrangements Regulations 2018 for Donahey's Events LTD (membership Number 5421) and in the event of insolvency, protection is provided for Non-flight packages. ABTOT cover provides for a refund in the event you have not yet travelled.
View our current membership certificate here Donaheys-Events-LTD-ABTOT-Membership-Certificate.pdf
See The Strictly Stars Up Close & Personal
Even the added extras are all included – with no extra cost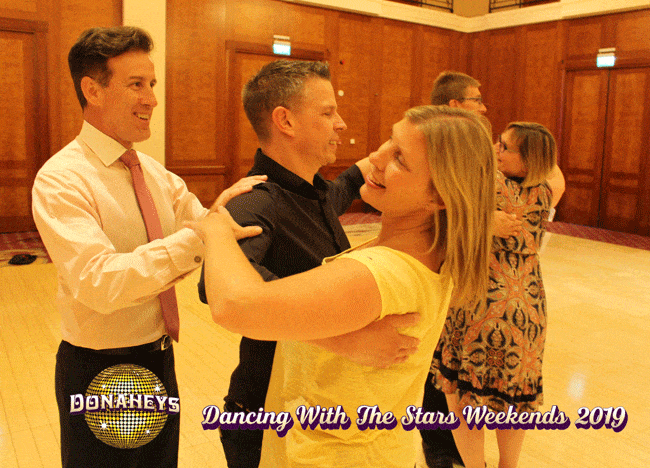 Weekend Transfer Flexibility – if you wish to change your booking, we'll happily switch you to any of our 2022 Dancing with The Stars Weekends – subject to availability, available upto 10-weeks prior to your original break.
All tables front row, floor-side guaranteed – offering great up close & personal, uninterrupted views of their showcase with no need to pay extra to upgrade.
Ample free on-site parking.
Donahey's Adult only breaks are truly inspirational and a great chance to learn to dance, improve your dancing, try new styles, learn new steps, develop your technique along with a fabulous opportunity to be taught by the actual stars of Strictly Come Dancing. Alternatively why not just sit back and soak up the fabulous atmosphere in this stunning resort. If you're not sure what to expect, take a look at some of the fabulous testimonials we have received from the actual stars of Strictly & this years guests.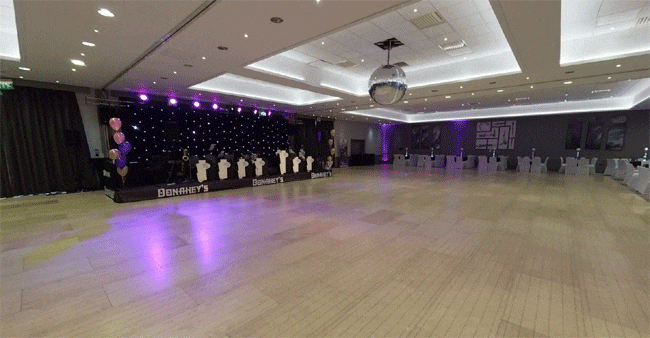 The Beaumont Estate's stunning Air Conditioned Hanover Ballroom, at nearly 6,000sq ft, will offer us 3,500sq ft of amazing sprung wooden dance floor – one of the largest dance floors in the country. The Hanover Ballroom benefits from floor to ceiling windows, along with it's own private bars & reception areas – this impressive venue is just perfect for our dance weekend.
If you've never danced before this is a Strictly experience you'll never forget; Amazing shows to see, beginner dance lessons with the stars to try, questions & answers sessions – and so much more all under one roof, who knows who you'll bump into around the hotel!
Book your places today to avoid disappointment as these are hugely popular sell-out events.
£15 million investment programme

During 2019 De Vere group invested almost £15 million into an extensive refurbishment programme across the entire Beaumont Estate. More refurbishment is scheduled during 2021 & 2022
Bedrooms fully refurbished, the addition of the stylish new Wessex Wing Bedrooms (shown below), new flagship Bar & Restauraunt 1705, main restauraunt & reception areas refurbished, extensive grounds works, plus refurbishment of the Hanover & Hampton Ballrooms & lounges.

We are confident this extensive investment programme will provide all our guests a higher quality and more superior experience than ever before here at Beaumont Estate – with investment already evident this year throughout our ballrooms plus the new & refurbished bedrooms.
What the Strictly stars say about Donahey's Weekend Breaks…..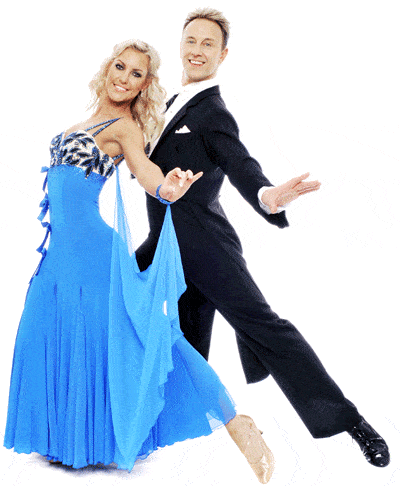 'Paul, you're such a Superstar for organising such a fabulous event' Anton Du Beke

'Is it me or do Donahey's run the best dance weekends in the country….Kevin Clifton

'What an amazing weekend! Thank you so much for inviting us, we are so happy to be part of your beautiful event. A clear 10 from me!' Aljaz Skorjanec

'I know we say this every year, but this really is the best dance weekend in the UK. So well organised and so much dancing. We love working with Donahey's, you always know you'll get such a professionally run event. Thank you to Donahey's for organising such wonderful events'Ian Waite

'Our 3rd year at a Donaheys dance weekend. Thank you for letting Kevin and I be part of this fabulous event. Lots of love x' Karen Hauer

'Donaheys organise the number 1 dance event in the country. We really look forward to Donahey's dance weekends; they're so well organised, great venues and a fabulous audience. Thank you so much Paul.'Natalie Lowe

'What a FAB-U-LOUS event to attend. A real feel good weekend, cannot wait to be back' Janette Manrara

'What an incredible event, we loved every second of it. So much on offer from all the Strictly couples & classes, we love being part of it. Kevin Clifton

'Thank you to Donahey's, in our opinion Donahey's are one of the best-organised events we attend, they always look after you the guest and us the artist – thank you' Vincent Simone

'Congratulations to the Donahey's for finding the most amazing venue. How brilliant is Alton Towers – a diamond in the country. We love working with the Donahey's – you always know you'll get such a professionally run event' Ian Waite

"What can I say? What a great weekend. We do shows all over the country but never have we had so much fun and met so many great people. I have to say Donaheys have done an amazing job organising the whole weekend, hope to be back soon!" James & Ola Jordan

'Alton Towers is a great venue, we love it here' 'We've had great feedback from a lot of people about your event at Alton towers it was a fantastic weekend' Darren Bennett & Lilia Kopylova

'Absolutely amazing, well organised and an extremely fun filled weekend. So much to take part in and everyone having such a great time' Karen Hardy

'Dance weekends with Donahey's are a fun and exciting break for anyone who loves to dance or wants to learn. They are very professionally organised and they really look after you. The atmosphere is relaxed and friendly and the team are great. A must for your diary'Flavia Cacace

4* De Vere Beaumont Estate Hotel, Windsor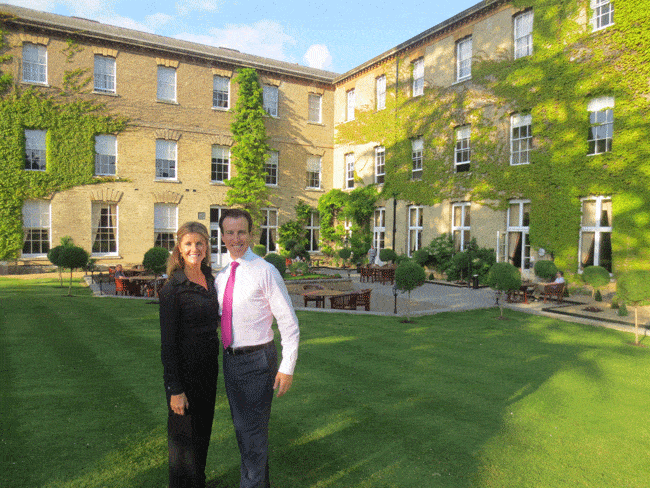 Situated in Windsor, De Vere Beaumont Estate is a charming and modern hotel set in 40 acres of beautifully landscaped gardens.
This impressive estate set in the rolling countryside is the perfect destination for our 'everything under one roof' Weekend Break.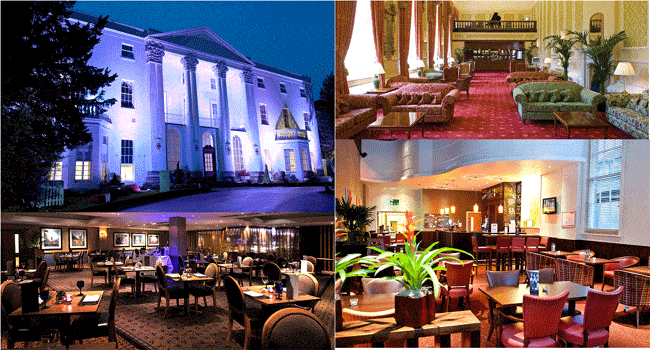 Leisure facilities include an indoor 20m swimming pool, gym, squash courts & tennis courts, alternatively why not take a leisurely walk within the beautiful 40 acres of manicured grounds.
All bedrooms have everything you need for a comfortable and relaxing stay – and are furnished in a contemporary style. Facilities include en-suite bathroom, flat screen television, direct dial telephone, clock-radio, hairdryer, trouser press and hospitality tray. For a small upgrade charge, you can take advantage of one of the Superior or Executive Rooms.

Why not fly…Only 15mins from Heathrow – around a £35 cab fare.
De Vere Beaumont Estate Hotel, Burfield Road, Old Windsor, Berkshire, SL4 2JJ.
View our event on the offical De Vere Beaumont Estate website here
www.devere.co.uk/beaumont-estate/offers/dancing-stars-weekends/
4* De Vere Beaumont Estate Hotel Photo's
Guest Reviews & Recommendations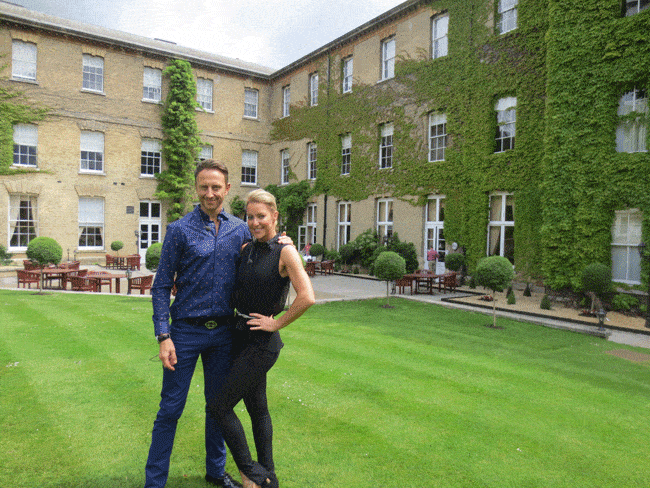 Just an official thanks to all the Donahey's team. Windsor was my fifth weekend with you and I think it probably rates as the best yet. Certainly the most emotional. Tears rolling down my cheeks after the Family Von Boyce dance and Ian and Natalie's Fotxtrot. Stunning.

I know how much work goes into an event like this and I hope you get as much buzz out of it as your customers do. The hotel was good, the food was the best yet in my opinion and the schedule went seamlessly through the three days. I thought the introduction of the try-to-remember-and-practice-the-workshop-steps was a good move and welcomed by many whose memory bank gets a bit bewildered through an inability to take so much in!!

Anyway, a BIGGGGGGGGGGGGG thank you.
Ann & Chas

Thank you all for a wonderful weekend! Extremely well organised and a great venue, we had a FAB-U-LOUS time.

The Stars and Donaheys team alike were all brilliant during our lessons. The Show Dances were ALL breath taking, but especially, Warren & Kristi's Waltz, Darren & Lilia's Paso and Ian and Natalie's Foxtrot! How lucky were we to experience all of that in one weekend!

We would highly recommend Donahey's and Dancing with the Stars weekend to anyone.
Len and Jo

We really, really enjoyed the weekend with you and look forward to seeing you again in March
Trevor and Lorraine

I want to say thank you to you and your team for a fantastic weekend. Both my wife and I enjoyed the three days far more than we thought we could have done. Every element of the event was exceptionally well planned, and we were impressed by the friendly and approachable nature of your whole team. This, coupled with the superb workshops and showcases has left us with memories that we will never forget. We will return, along with some additional family members..
Jon & Tara

A massive Thank You to you, Shirley and your wonderful team for a fantastic weekend….. my first and certainly not my last! We have both booked up for next year.

With best wishes and, again, huge thanks to you for what was an absolutely brilliant weekend and, for me, the best introduction I could possibly have had to the world of ballroom dancing.
Amanda & Jan

Just a huge thank you for a fabulous weekend at Old Windsor. The venue, the workshops, the showcases, everything absolutely fab…u..lous! Enjoy your rest, well done to you and your team. We cannot forget something so good, we even practised some steps yesterday evening!
Robert & Julie

Congratulations on organising a fantastic weekend at the Beaumont Estate, it was truly memorable
Patrick & Claire

Donahey's Short Breaks – Windsor April '19 Photo's
Your Donahey's Weekend Break Team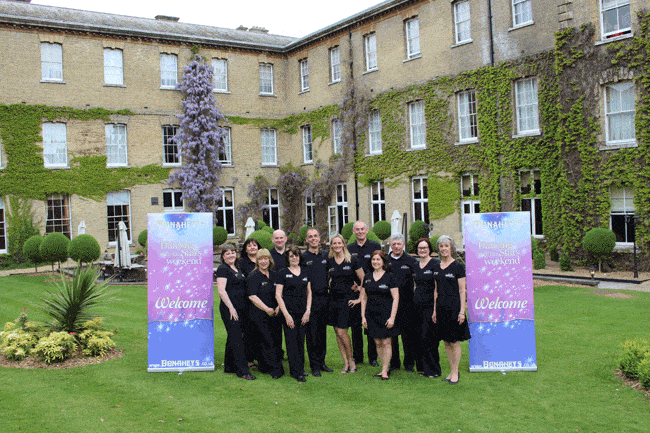 Throughout your dance weekend you will have the services of Donahey's dedicated on-site team of Dance Teachers; Dancers; Helpers & Assistants including Paul, Shirley & Amy Donahey who are all there to ensure your dance weekend runs smoothly and is full of the right kind of memories.
I've never danced before, is it for me..….
During the weekend you can enjoy a beginners dance lesson especially designed for guests who have never danced before or maybe have taken a few classes and want to build their confidence on the dance-floor.
The great news is you will be taught your first dance steps by the stars of Strictly…wow, what better way to learn to dance?
We've listened to customer feedback and are pleased to offer a special beginners refresher hour early Sunday evening – before the main evening begins. Here we'll go over some of the dances you've learnt over the weekend – a perfect re-cap for you. Plus, we always teach a fun & easy dance during the evening.
So as well as sitting back and enjoying the spectacular showcases, you'll be able to learn to dance with the stars of TV, and of course enjoy the stunning setting of our fabulous venue and all the facilities it has to offer.
It truly will be a weekend made of great memories.
I've danced before…
This will be an amazing opportunity for you to enhance your dancing and be taught by some of the world's finest dancers.
You'll learn tailored new choreography, developing your technique & style, most of all though you'll actually be taught by the stars of Strictly Come Dancing – what better way to learn?
We offer you either a dedicated Improver, Intermediate or Advanced dance lesson, all you need do is let us know which level of lesson you would like to take.
The White House Hotel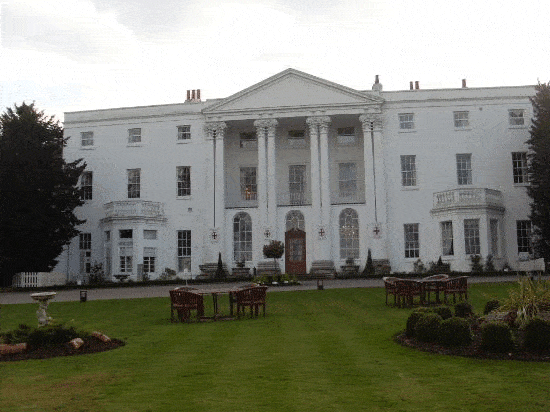 Why not upgrade your weekend and stay in the magnificent White House Hotel?
Featuring stunning suites & bedrooms, this feature hotel within the Beaumont Estate, comprises 16 premium deluxe bedrooms and ten lavish suites; it also boasts private check-in facilities & VIP parking.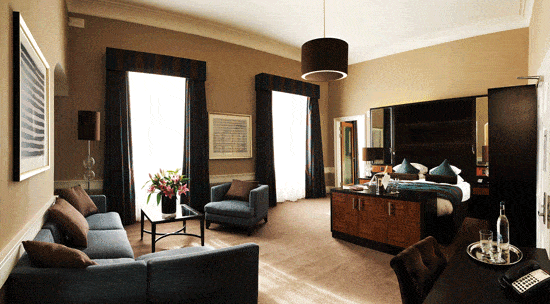 Discover Windsor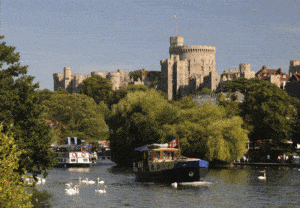 Why not take a 10min stroll down to The River Thames where you can take a River Boat Cruise through Windsor or stroll along the scenic Thames Tow Path. Beaumont Estate is a fantastic base for visiting picturesque Windsor, Windsor Castle, Hampton Court Palace, Ascot Racecourse, Savill Gardens & The Wentworth Golf Course, which are all under 15 minutes away.
The Beaumont Estate is a short 41minute train journey to
London Waterloo, where you could enjoy time in Central London.
Questions & Answers
Firstly, tell me about Donahey's?
The Donahey's family have been organising spectacular dance events and teaching children & adults to dance across Manchester & South Devon for over 50 years. We pride ourselves on the quality of all our classes and events. Our hugely successful Weekend Breaks with the Stars of Strictly Come Dancing are now in their 15th year – we thoroughly enjoy them and go out of our way to ensure our customers do too.
Donahey's is recommended by, and affiliated to the world's largest dance teacher's organisation, the International Dance Teachers Association – rest assured Donahey's have worked hard to establish a name you can trust along with an exceptional reputation in the Dancing world.
Are our Weekend Breaks endorsed by or associated with the BBC in any way?
No.
Are my payments protected?
Absolutely – Donahey's is committed to providing all our guests with Full Financial Protection, giving you 100% peace of mind.
For your peace of mind and to comply with The Package Travel Regulations 2018, Donahey's provides full financial protection for all your deposits and payments through the Association of Bonded Travel Organisers Trust Limited (ABTOT)
ABTOT provides financial protection under The Package Travel and Linked Travel Arrangements Regulations 2018 for Donahey's Events LTD (membership Number 5421) and in the event of insolvency, protection is provided for Non-flight packages.
ABTOT cover provides for a refund in the event you have not yet travelled. https://www.abtot.com/
I've never danced before is this break suitable?
Absolutely, this is a Strictly experience you'll never forget; Amazing showcase to see, beginner dance lessons with the stars to try, questions & answers sessions – all under one roof. Plus of course you have all the facilities that the fabulous hotel has to offer you.
Our star breaks are designed for enjoyment for all, whether you've never stepped foot on a dance floor before and want to sit back and enjoy the show, or if your an experienced dancer and want to take part in the workshop & evening dancing. The level of your participation is entirely your decision, you can join in some of the workshop & dancing, or none at all – the choice is completely yours!
Who teaches the workshops?
The professional dancers from Strictly Come Dancing will teach your workshop.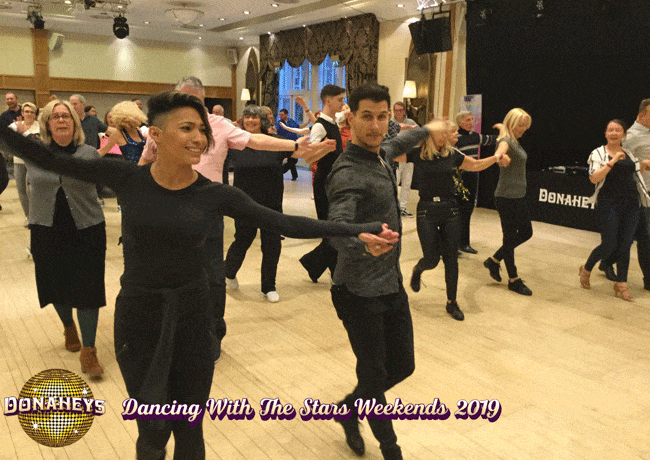 What level of ability will the workshops be?
Unlike other dance breaks where everyone is simply joined together into one big group, we offer dance lessons that are suited to your dance experience – perfect to help give you right experience, steps & enjoyment.
Workshops will be offered from beginners through to experienced.
What level of workshop shall I choose?
We offer 4 choices;
Absolute Beginners 0-3 months
These workshops are especially for those who have never danced before, or maybe taken just a few weeks of classes
Improver 4-9 months
Especially for those who have danced just a little before, perhaps you have a few basic steps in a selection of dances.
Regular Social Dancers 9 months – 2 years
Ideal if you have taken dance lessons for a while and enjoy attending some social dances.
Experienced Dancers 2yrs+
If you enjoy dancing regularly and have taken classes for a while this group is perfect for you.
When considering the above, please bear in mind that we simply wish to split guests into groups of about the same experience so you can all enjoy your lessons with the Strictly Stars – thats it! There is no-one judging or marking you, we simply wish to group people into those that have never danced before, those that have done a little before and those that have done a bit more before.
Please don't worry about holding any class up, the lessons will always progress with the Strictly Stars as planned. You may take away all the steps & technique taught in each workshop or just some of it – the main thing is you enjoy your time with these wonderful stars.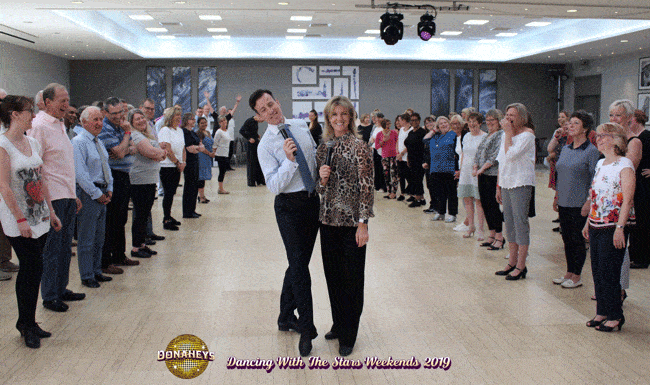 What shall I wear?
The workshop is casual; Sunday evening will be Formal.
For dancing; on your feet something comfortable, dance shoes or flattish shoes – preferably not trainers. Suitable footwear with a non-slip sole MUST be worn at all times whilst on the dance floor. Regular sports trainers are not advised for dancing as they tend to stick to the floor. Strictly no steel, overly high or thin stiletto heels, steel toecaps, flip-flops, wedges or sandals to be worn on the dance floor and no bare-feet, socks or tights.
View our ladies recommended footwear photo guide here;
What kinds of age group attend?
Our Star Breaks are designed for enjoyment by adults only and regularly attract a mix of all ages so you can be sure of a fun time – some families bring along 3 generations!
Please note our minimum age is 18.
What is included in the price?
1 night en-suite accommodation; Sunday 3-course evening meal; Workshop Sunday afternoon; Sunday evening dance from 8pm till midnight with dancing for everyone; Dance showcase Sunday evening; Monday morning Full English Breakfast.
What standard of accommodation are the hotels?
All the hotel's Donahey's chooses for our events are a minimum of 4 star standard. For more information on each of our hotels, visit the dedicated webpage;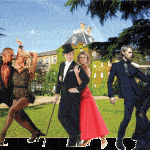 Beaumont Estate, Old Windsor, Berkshire
Can we make special room requests at our hotel?
Of course, if you have any specific hotel requests whatsoever such as; extending your stay either side at preferential rates, rooms close to your friends, low floors, near a lift or wish to upgrade your facilities simply contact the hotel direct. Contact No's will be highlighted in your confirmation letters
What happens in the evenings?
There will be a fabulous showcase from the stars of Strictly Come Dancing and dancing for everyone.
Can we sit with our friends?
Certainly, when you fill out your booking form, just tell us who they are and we will reserve you seating at the same table in the ballroom!
Your Ballroom Table
You will be reserved seating at a floor-side table in the Main Ballroom.
Our Star Break Programme/Itinerary
You will receive your complimentary souvenir programme upon registration with all the details of what we have to offer you during the break.
Sunday
2.30pm Donahey's Registration Desk Opens
3pm Hotel Check-In available
All guests are welcome to use the hotel facilities from anytime on the Sunday. Lunch will also be available to purchase from the hotels restaurants.
4.30pm Beginners Workshop
5.30pm Beginners 2 Workshop
6.30pm Improvers Workshop
7.30pm Intermediate/Advanced Workshop
5pm – 7.30pm Evening Meals will be served in the main Restaurant
Dining time will be advised and dependent on which workshop level you are taking.
8.15pm Evening Dance
9.15pm Strictly Showcase
10.30pm VIP Photocall
12.00am Ballroom Closes
Monday
06:30am-10.30am Breakfast is served
11am Checkout
Guests are welcome to use the hotel's facilities throughout the day.
Photographs
Make sure you bring your camera for our exclusive 'Photo Calls' with the stars of the show, your chance to take some fabulous souvenir photographs of the stars.
My partner/friends don't dance can I take part in the classes?
Absolutely.
My partner/friends dance at a different level to myself, can we each take the workshops appropriate for our own dancing ability?
Sure, It's absolutely fine for you to split for the dance lessons/workshops, no problem at all – just let us know on your booking form – we do get some do that. Naturally, you'll be sat together in the ballroom for the evening's dancing and shows, and of course in the restaurant for your meals – we just find it best to offer guests the options of splitting for workshops if you so wish?
If you choose to split for workshops please be aware we are unable to offer you partners in the workshops. If you choose to take part in all the workshops you are offered, due to the packed workshop schedule spread across 2 ballrooms, you should expect to spend most of the daytimes seperate from each other.
So we don't overcrowd workshops though, we wouldn't be able to accommodate both of you taking each others lessons as well – that wouldn't be fair on everyone else.
Can we book as two ladies?
Absolutely, many do. We often-welcome groups of friends, or family members to our dance weekends; Mother & Daughter, Sisters, Best Friends etc – we have a large allocation of Twin bedrooms available on all our weekends.
In terms of the dance lessons; You can book to take part in the same level classes or different level classes it's completely upto you. If you split we can't guarantee you a partner, if you stay together though in the same level often ladies will learn/dance together so they can practice & enjoy some of the dances learnt during the fabulous evenings.
I am a lady without a partner – can I come along?
Of course, we openly welcome ladies without a dance partner, however we are unable to provide dance partners over the weekend. Donahey's does not have a policy of offering male dance partners to ladies who attend without a dance partner and we do not rotate partners during any workshops. We ask you please, not to book our dance weekend under the impression that we supply dance partners for ladies, or that you will be dancing with the stars themselves, thank you.
Unfortunately, we have no single rooms or places available. Large comfortable Twin rooms are available for two-person occupancy, but not for single occupancy – sorry absolutely no single places or rooms now available.
Can i just purchase tickets for the dancing/workshops/show?
In terms of non-residential, or day passes, unfortunately it's not an option we offer I'm afraid. We don't sell day passes so you won't have different people dropping in and out of your break.
It creates a much nicer atmosphere when everyone is residential for the entire break.
Is De Vere connected in any way with the dance workshops & shows offered?
All the shows & workshops are organised by Donahey's – the dance experts. Principal Hayley & DeVere have no contractual responsibility towards guests in relation to the delivery of your workshops & shows.
Donahey's is the trading style of Donahey's Events LTD
– Company No 4673588, registered in England & Wales.