Anton Du Beke & Erin Boag Sat 11th May '13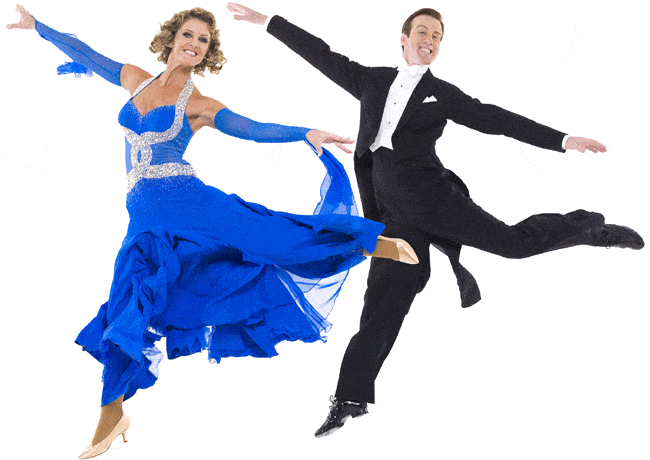 Making A Booking
Limited evening tickets are available priced at £45, optional workshop tickets are available at an additional £35.  Families are welcome plus we GUARANTEE everyone a seat.  Evening doors 7.30pm, fully licensed bar, food is not available, ample free on-site parking.  Last dance 11.30pm.
Book by Credit/Debit Card
Simply make your ticket selection below then select the Add To Cart button; this will direct you to our secure Paypal site where you can adjust the quantity as required.
Please note this will incur a £1 paypal debit/credit card booking fee per evening ticket & per workshop.
Book by Post
Simply post a cheque out to cover the ticket/workshop price, payable to Donahey's c/o Donahey's, PO Box 209, Ashton-U-Lyne, Lancashire, OL6 OAG. Please include a SAE and allow 17 days from posting for delivery.
Book by Phone
Unfortunately we don't have credit card facilities to enable us to accept telephone bookings.
BBC Strictly Come Dancing Stars Live
Anton Du Beke & Erin Boag
Saturday 11th May 2013, 7.30pm
Dukinfield Town Hall, Cheshire
Venue Details, 360 tour & map
Donahey's proudly present a dream, up close & personal experience for every Strictly Come Dancing fan..
An exclusive, up-close & personal, breathtaking Ballroom showcase from Anton & Erin including an audience with Anton & Erin.  You will also benefit from privileged backstage access to meet the stars, have photographs & collect autographs from Anton & Erin.
Plus an optional 80 minute dance workshop with the stars of the show – Anton & Erin – available on Saturday afternoon, exclusively to those attending the evening dance.
'Paul, you're such a Superstar for organising such fabulous events. We love doing shows here, such a great crowd and you're so lucky to have such a wonderful venue.' Anton Du Beke
'Dukinfield Town Hall is a wonderful place to perform, we love coming here' Erin Boag

'This is one of the best dance-floors we perform on, we've travelled for 6-hours tonight and it's definitely worth it' Erin Boag

Following the complete sell-out of their 2007, 2008, 2009, 2010, 2011 & 2012 dates here, the Prestigious Dukinfield Town Hall will once again play host to another evening of fabulous dancing for everyone  –  Big Band Ballroom, Hot Latin American, Sexy Salsa, Rock'n'Roll, & much more…. enjoy a wonderful night of dancing in this stunning venue.
Anton Du Beke & Erin Boag will be performing their breathtaking Ballroom showcase up close & personal, you'll hear them talk about their Strictly Come Dancing experiences plus you'll have the chance to meet, chat and have pictures & autographs with them.
Hosted by TV personality Mr Anton Du Beke, they'll be performing a breathtaking showcase of Ballroom dances as seen on TV featuring the Waltz, Quickstep, Tango, Viennese Waltz & Foxtrot…..plus with Erin Boag's fabulous ballroom gowns this is going to be another Unforgettable night out you'll really not want to miss.
'There's nothing quite like seeing these celebrities performing for you mere feet away'
Anton Du Beke and his dance partner Erin Boag have starred in all 8 series of Strictly Come Dancing, this series Erin Boag partnered footballing legend Peter Shilton, while Anton Du Beke partners the Rt Hon Ann Widdecomb.
Limited tickets are available priced at £45.   This includes;
Saturday evening Black Tie Ball – a fabulous night of dancing for everyone; Ballroom, Latin, Salsa, Rock'n'Roll, & much much more
Anton & Erin performing their breathtaking Ballroom showcase – up close & personal.
We guarantee you exclusive back-stage access after the show to personally meet Anton & Erin for those souvenir autograph & photographs.
Plus an optional 80 minute dance workshop with Anton & Erin on vailable on Saturday afternoon, workshop tickets £35.
Anton Du Beke & Erin Boag TV interview at previous event
Anton Du Beke & Erin Boag photo gallery from past events
QUESTIONS & ANSWERS
Firstly, tell me about Donahey's?
The Donahey's family have been organising spectacular dance events and teaching children & adults across Manchester to dance for over 43 years. We pride ourselves on the quality of all our classes and events. Our hugely successful events with the stars of BBC Strictly Come Dancing are now in their 7th year – we thoroughly enjoy them and we go out of our way to ensure our customers do too.
Donahey's is recommended by, and affiliated to the world's largest dance teacher's organisation, the IDTA – rest assured Donahey's have worked hard to establish a name you can trust along with an exceptional reputation in the Dancing world.
Who teaches the workshops?
James and Ola Jordan, expertly assisted by our Donahey's team.
What shall I wear?
The daytime is casual, the evening Black Tie – look your best for some fab pictures with the stars!
For dancing; on your feet something comfortable, dance shoes or flattish shoes preferably not trainers. No high heels, flip flops, steel heels or toe caps please.
What kinds of age group attend?
Our dance break is designed for enjoyment by everyone and regularly attracts a mix of all ages so you can be sure of a fun time – some families bring along 3 generations!
What happens in the evening?
There will be dancing for everyone during the evening with a fabulous showcase from the stars of Strictly Come Dancing.
Cameras
There's going to be lots of great photo & autograph opportunities during the evenings so make sure you don't forget your camera!
To reduce the time you are queuing and to increase your enjoyment of the remainder of the evening; following the showcases we are introducing a system whereby guests will be invited by table number for photo's & autographs with the stars. Please hang fire until your table has been invited, your co-operation with this will be really appreciated and hopefully this should work to allow for the better enjoyment of the rest of the evenings for you.
Can children come along & take part?
Yes, well-behaved, accompanied children are very welcome to take part in full. However, children may not be left unaccompanied at workshops or evening dances whatsoever and parents or guardians must accept full responsibility for the supervision of their children at all times.
Is this like a theatre show?
Please don't confuse this evening with a theatre show – it is not. This is a night of general dancing for people to enjoy starring James & Ola's fabulous showcase. You will benefit from seeing the stars perform for you mere feet away and you will also benefit from exclusive access to meet them backstage – something never available at large theatre/arena events. Seating is on the same level as the dance floor and is laid out in a ballroom style. There are always 50 more seats available than tickets sold, on your arrival you simply select the seats you most prefer – checkout our 360 tour of Ashton Town Hall here, laid out for one of our events. If you are expecting a full night's dancing by James & Ola this is not the ticket for you.
Is this event in any way associated with the BBC?
No.
Find out more information about the BBC TV programme Strictly Come Dancing
by checking out the BBC Strictly Come Dancing website
www.bbc.co.uk/strictlycomedancing
Find out more about Strictly Come Dancing stars Anton & Erin, checkout there website
www.antonanderin.com