Latin In Line Dance Lessons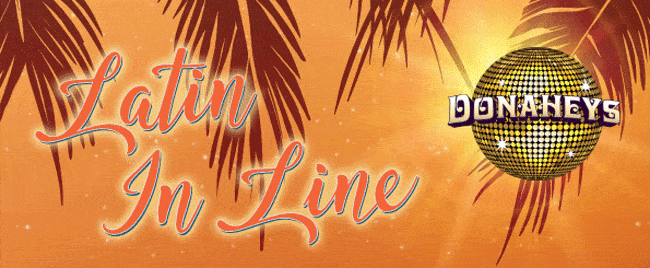 Fab-u-lous dance lessons – no partner required!
Join Donahey's fabulous Latin In Line Lessons and learn some of the great 'Latino Dances'
including Cha-Cha, Mambo, Rumba, Salsa, Charleston, Merengue & so much more
Donahey's brand new 'Socially Distanced' Latin Line lessons are a great way to keep fit, plus you'll learn to dance all these fabulous dances seen on Strictly
– all in a friendly, safe & relaxed environment without worrying about a partner.
A lovely lesson with nice people and keeping you fit.
We introduce new dances all the time, which makes this class ideal for beginners or experienced dancers alike to join anytime.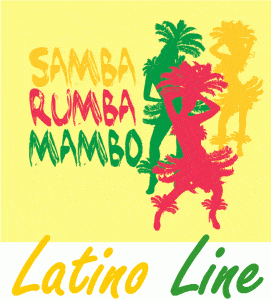 Strictly Pro's Sensational Week 1 'Latino Opening'
Brand New Latin In Line Lessons
Love to dance?
Don't want to worry about a partner?
Then join one of Donahey's Latin In Line classes starting this month

Mondays – opening 1st November 2021
6.30pm – 7.30pm
Plymstock School
Church Rd, Plymstock, Plymouth PL9 9AZ

Tuesdays 6.30pm – 7.30pm
Kingsbridge Community College
Balkwill Rd, Kingsbridge TQ7 1PL

Wednesdays – opening 20th October 2021
7pm – 7.55pm
The Woolwell Centre
Darklake Lane, Woolwell, Plymouth PL6 7TR
*** September & October Offer ***
£7.50 per class pay as you go or £28 for 4 week consecutive class pass.
As of today October 18th, 2021 limited places are still available, once we receive your booking payment your place is confirmed.

Book Securely Online Here
Lessons are £7.50 when booking our 4 week consecutive class pass. Book here instantly & securely with a Debit or Credit Card.
Book by Direct Bank Transfer
You are welcome to pay for your places by Direct Bank Transfer;
Simply email us here using this link info@donaheys.co.uk and we'll reply with our bank details.
Google Reviews & Recommendations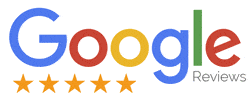 Awesome experience, pitched at the perfect level for beginners. Would highly recommend!

Kye Buffery
21:29 02 Feb 20
I have been attending the Hyde dance class for a while now, from a person that that never danced, I love it, everyone has made me feel like part of the family and are very good at explaining things for me to understand. It is one of highlights of my week.

Paul Hunter
16:45 03 Jan 20
Love the beginners course. Attended on my own so have been partnered by the teacher - really enjoying it. For someone who has always loved dance since being a child I'm loving learning the basics all over again. Friendly and relaxed group would highly recommend even if your solo.

Debbie Mccarthy
10:20 10 Nov 19
First came to Donahey's 4 years ago, and never looked back! Very professional, friendly instructors who can help you improve and above all enjoy your dancing no matter what level you are at. Well organised, full of friendly people to dance and socialise with, and most importantly you can stay up to date with all the "Strictly" gossip! I'd recommend these evenings to everyone. 💃👍

Gareth Nolan
20:28 05 Nov 19
Exceptional teaching and so much fun!

david barratt
16:38 29 Oct 19
Great teaching methods progressively encourage learning to dance to up to the minute music, at the same time as making new friends.. we have always felt encouraged plus the dance weekends with the Strictly stars are fabulous.

Susan Morgan
23:12 24 Oct 19
Amazingly good fun and something I really look forward to each week. I was simply looking for a healthy New Year's resolution that didn't sound utterly dire, and now I'm hooked on dancing! I'd never danced before but Paul and his wonderful team are brilliant at explaining and encouraging. I'm on my own but felt welcomed and never lack a dance partner. If you're looking to have fun, meet new people and even have a bit of a workout I thoroughly recommend signing up.

Eve Salthouse
17:53 24 Oct 19
A wonderful way to learn. We smile throughout our lessons and it is addictive! A very kind and knowledgeable team. A great way to meet new friends and you dont necessarily need a partner. Also a great way to get and stay fit. Highly recommended!

Superb way to learn ballroom (and Latin/Jive/rock and roll etc...) progressing from 2 left feet and the rhythmic ability of a deaf sloth to Strictly-ready superstars in as long or as short a time as you dare. Great tuition from infinitely patient teachers. If you're thinking of signing up, stop thinking and start dancing 🙂

These classes are F A B U L O U S ! Easy to understand, especially for a 'Dad Dancer' such as me. Funny, interesting but always great instruction in Ballroom & Latin Dances Paul & his team teach excellent classes, always a highlight to our week.

Justin Haque
11:46 23 Oct 19
We have been saying for years that we would like to learn to dance properly and when the chance came through a friend we decided to give it a go.So pleased we did as we have had a 'ball', brilliant teachers, friendly atmosphere and exercise that's fun.Everyone gets tuition alone the way from the professionals in a positive way encouraging us to enjoy the evening whatever the mistakes ! Mondays cannot come around quick enough, love it. Linda & Colin

Linda Rockey
08:24 23 Oct 19
Dragged my husband along as I wanted to learn to dance but now he enjoys it as much as I do! Really relaxed atmosphere and great fun as well as brilliant teaching. Definitely recommend it.

Helen Furner
11:21 22 Oct 19
These lessons are great for anyone from beginners to experts. Teachers are very understanding and know exactly what their doing. Relaxed and social atmosphere. If your looking to learn ballroom dancing these are brilliant.

Eddie Morrison
18:11 18 Oct 19
My husband and I decided to give the dance lessons a whirl and we absolutely love it! Relaxed atmosphere, bit of a giggle, great teachers and a lovely way to exercise and meet others. Cant speak highly enough of it. Thankyou x

Rachel Byrne
20:47 15 Oct 19
The beginner's classes are ideally structured to get you into the ballroom dances. Paul is very clear and precise with his instructions and the dance team are there to help you along the way. An hour passes very quickly and you always feel you have learnt something. You will find you can't wait for next week to arrive. A friendly gathering of beginners where we are all there to learn.

Having a ball, we look forward to our class each week, the hour goes so quick , our dance instructors are very professional and very patient, we have a lot of fun , my only regret is that, l hadn't started before now , would definitely recommend it, thankyou Paul and your team x

Gill Horne
22:12 04 Mar 19
My wife has wanted to learn to dance for years, I agreed to attend Donahey's with her but did not expect to enjoy myself so much. The instructors are great fun and obviously enjoy what they do. We are having varying degrees of success but are getting lots of support from Paul and his team. We have just signed up for our second course and fully intend to continue with this very sociable and energetic evening.

Steve Horne
22:08 04 Mar 19
Friendly informative instruction in a good spacious environment. Easy going, helpful and knowledgeable staff. Well organized and would recommend to anyone.

Hazel Nightingale
21:34 04 Mar 19
We love Donaheys! My husband had never stepped foot on the dance floor in his life. After 7 months of weekly classes and a weekend away with the Strictly stars (organised by Donaheys) we were able to perform a Waltz, Tango and Cha-Cha medley at our wedding which our guests were completely amazed with. My husband also used to complain about lower back pains regularly before we started ballroom and since starting the lessons his posture has improved so that he doesn't have this trouble anymore! I came from a ballet background and have enjoyed learning the new styles of dance. The classes are good fun and we also learn a lot at a good pace and the members nights are so enjoyable too!

Claire Spence
11:03 02 Mar 19
I've tried a few classes in the region over the last few years before coming to Donaheys and this is the best!! Paul's teaching style is easy and enjoyable, venues are warm; people and heating! There are helpers to dance with singletons (not many classes do this). Keep on dancing 😀

Julie Lang
13:59 07 Jan 19
I'm young, and I work as an engineer. No-one expects me to do ballroom dance classes, but i find it absolutely brilliant! Paul and the whole crew are always so much fun and the kindest people you will meet. If you are on the fence about it, personally I would say just give it a go and try it. It's great fun and you do learn a lot along the way!

Jake Shaw-sutton
11:22 19 Dec 18
I can't rate Donaheys highly enough, from the first lesson I was hooked. I was always reticent to take dancing lessons but my wife needed a partner so along I went and 3 years later, still loving it.Pauls relaxed teaching methods take you along gently, but before you know it you have lovely routines for all your favourite dances.You just have to look around the dance floor at all the laughing, smiling people to know your in a great place.

Dave Brown
11:36 18 Dec 18
Joining Donahey's ballroom and latin dance classes has been the best thing we have done in recent years.Paul's classes are friendly and fun. His light-hearted and patient approach together with his expert tuition has guided us from simple beginner to more complicated routines. We now have the confidence to venture out on to the dance floor and have a really good time. Thank you Donahey's team.Rosemary and Richard

Rosemary Pollard
20:49 17 Dec 18
Been dancing with Donaheys since 2016 and always had a great time. We've met lots of fun people and enjoyed the dancing as well as the friendly social atmosphere. It's something we look forward to every week!

steve leach
21:56 16 Dec 18
I have been attending Donaheys ballroom dance classes for several years now. Because I was a lone dancer, I initially thought I would just give it a try for a six weeks. But the classes have been so friendly, enjoyable and welcoming that, here I am many year's later, still 'giving it a go'. I would recommend Donaheys to anyone who wants to learn dance routines in a fun atmosphere.

Cheryl Mcsweeny
17:02 16 Dec 18
Thinking Of trying some Ballroom Dance Lessons? Then don't hesitate.Paul Donahey's sessions are fun, well structured, and carried out at a sensible pace. You soon gain a sense of achievement in learning the enjoyable dance routines, and with it the bonus of a sociable atmosphere that promotes new friendships. We can highly recommend these lessons.Phil and Sally

Phil Cridland
17:23 14 Dec 18
If you are looking for a fun, friendly way to exercise and meet new friends then look no further. There is an added bonus in that you will also be taught to dance by Paul and his team in a way and at a speed that is ideal for beginers and also for those who wish to progress to a higher standard.I recomend giving it a go.

Gerald Tizzard
14:52 14 Dec 18
My wife dragged me kicking and screaming to our first Donahey's dance lesson a couple of years ago. I was convinced that my two left feet would make me stand out as a clod-hopping failure, and that I would be mocked and ridiculed by all involved. How wrong I was. The excellent instructors proved to be extremely professional, patient and non-judgmental, and the other students proved to be very friendly and helpful. Everyone understands what it's like to be a beginner as they have all experienced their first lesson, and they can remember how nerve- wracking it can be to walk into the dance hall on that first evening. The nerves soon disappear, and I was utterly amazed at how quickly these amazing people managed to have us dancing around the floor. The basics are taught in a fun and easily understandable way, and in no time I found I was looking forward to our weekly Donahey's sessions, as I was always keen to add a few more steps to our repertoire. While it's true that we may never become the next Fred Astaire and Ginger Rogers, we can live with that. However, what we have gained, is a lot of pleasure doing something together as a couple (although single people are also equally welcomed and encouraged), along with a lovely group of like minded people. If you've ever thought about dancing, don't hesitate to give Donahey's a go. After all, if you find it's not for you, you can always give it up again........although, if you're like us, you will catch the dancing bug and be in it for the long-haul.

Chris Harrison
19:57 13 Dec 18
As a Single man, I joined Donaheys Dance Classes at Plymstock School, with a view to improving my dancing for when cruising, and other occasions.In almost 12 months, I have missed only 1 class.Being single was not an issue, as a Partner is always found, and dancing with different Partners contributes to the fun.Donaheys is a well established, welcoming and friendly Dance School, with professional expert tuition in Ballroom and Latin dances.Member's Dances are held regularly at Kingsbridge, giving the opportunity for further tuition, practice and socialising with new friends.If you want to take it to the next level, Dancing with the Stars Weekends, which include Strictly Professionals, receive rave reviews, and is on my " To do list ".Oh, and for those of you wondering why I missed a lesson - England were playing in the World Cup !.

David Staley
14:15 13 Dec 18
It was such a pleasure to find dance classes in our area, for them to be comprehensive, thorough and also great fun with a lovely mix of Strictly style music. The teaching style is very clear and encouraging, while dancing with both your partner and others in the group makes you realise we all have the same struggles with tricky bits. It is very sociable across a broad age range and that is helped by members dances a couple of times a term. In fact I wish they were more often in order to practice the new learning. Once you have conquered the basics you never get bored, because each time a dance block is revisited a new little sequence is learnt - just wish I could remember them all.Also Paul organises the most fabulous "Strictly" weekends with the Strictly professionals tutoring classes and presenting showcase dances, full on and up close. We never would have thought of going to anything other than a standard theatre performance previously.

Susan Morgan
17:36 12 Dec 18
This is like having your own strictly journey. We've made some wonderful friends to share the experience of learning all the ballroom and Latin dances.Paul teaches dance in a way that is easy to pick up and no matter how uncoordinated one might be everyone will get a little bit closer to the strictly stars through these lessons.

The dance lessons provided by Donahey's are excellent fun! You do not need a partner to attend, and they offer group dance lessons from beginners to advanced. Furthermore, the instructors are excellent, friendly, and throw in a lot of good light hearted chat. You really can't go wrong in attending Donahey's lessons for fun on a week night!Lessons are 1 hr in duration. Over a 3-4 week period you will focus on learning, or developing your skills, on two dance types, one ballroom and one latin. Once the 3-4 week set of sessions is complete, you will move on to learning, or developing your skills, on two new dance types. In addition, between lessons, you have the opportunity to learn a line dance or two.If you are attending the lessons as a single person, then no worries. Not only do a lot of singles attend the classes, but it is standard practice for the instructors to rotate partners around the group every few minutes. This helps to ensure that you don't pick up and maintain any bad practices, plus emphasizes the social nature of the lesson. Plus, as there are always several instructors and assistants present, you can easily get help on something that you are stuck on.The lessons are held very much in a social, friendly atmosphere. Come and try. You are sure to have a great time, while learning a new skill.

Nigel Gotts
15:29 11 Dec 18
We started Dancing with Donaheys in Hyde back in April 2018. Never danced before but the class's are fun and friendly. We all make mistakes and we all laugh its a great achievement when we master the steps of the dances. really recommend the class to anyone

Glyn fitpatrick
14:10 11 Dec 18
Thanks to Paul's friendly and knowledgable technique my wife and I were immediately hooked into the world of dancing. We are now starting into our 5th year attending Donaheys dance lessons and have enjoyed every moment. Starting with trepidation, as absolute beginners, we were gently lead on to learn more advanced steps. The mixture of ballroom and latin seems to cover all bases. The friendly atmosphere and sensitive teaching encourages us now to learn new routines each month. What a joy to have a window into the world of Strictly Come Dancing on our doorstep. I wouldn't miss it for the world.

Clive Rowlands
14:01 11 Dec 18
Three years ago I was able to shuffle around the dance floor/ballroom but never felt proud of my efforts. After Pam and I have attended the Donaheys Ballroom lessons all has changed, not only are we able to confidently dance Waltz, Foxtrot, Quickstep and Tango but we have also been taught 4 Latin dances and a host of others including Rock and Roll, and Jive.At the start of this festive season we are learning the Viennese Waltz.Although retired we are now able to keep up with many of the younger couples who attend - there is no doubt that my fitness has improved dramatically.Thanks to Paul and the Team for the fun of the lessons and the enjoyment of the Social evenings.

Perren Tracey
13:55 11 Dec 18
Donahey's dance lessons are great fun and ideal for beginners and then improvers when you are ready to learn more complicated steps. The beginner classes are relaxed and friendly and are perfect for an introduction to ballroom and Latin dances plus they are great fun. Paul and the rest of the team take the time to ensure that everyone enjoys the lessons and it is surprising how quickly the dancing bug gets you.

Louise Brown
13:45 11 Dec 18
Since joining dance class at the Donaheys dance school I have benefitted from their professional and friendly tuition, leaning numerous dance techniques and styles. Definitely recommend joining for not only dance but it's society great fun and a good way to keeping fit.

Neville Coyle
13:44 11 Dec 18
I have been attending Donaheys with my partner for over a year now since my partner bought me a learn to dance in a day experience. I absolutely love the variety of dances we learn and Paul is such a friendly person and a great deal of fun. We often hear all the inside gossip of the strictly pros after their strictly Donaheys weekends which we are very keen to attend after our wedding! Want to learn ballroom? Then get down to Donaheys!

Ryan Procter
13:06 11 Dec 18
Me and my fiancé have been attending Donaghey's for a year and a half. We absolutely love our lessons here, we always have so much fun and highly recommend them to anybody who wants to learn to dance as a couple. The teachers are fantastic, full of knowledge and always make you feel warm and welcome. We particularly love the social nights which provide a fantastic opportunity to practise the dance routines we've learned and they are a great opportunity to socialise with the friends you make within the classes.

Rhiannon Mackenzie
20:46 08 Jun 18
Thoroughly enjoying our Ballroom and Latin dance lessons at Donaheys. Great tuition, great fun and we have made some lovely new friends. Looking forward to the next social evening.

Linda Howarth
22:33 05 Jun 18
My wife found Donaheys when they first started in the south hams, this was after many failed attempts. to be honest Paul was the last attempt. From the very first night it just clicked. Paul has such an enthralling way to teaching that you just can't help but smile even when your feet won't work. We have so much to thank Donaheys for, going that first night was one of the best things we have ever done. If your remotely thinking about dancing then come along you will love it! Thank you Paul and thank you Donaheys

andrew keast
21:44 21 Mar 18
Having never danced before I was a bit apprehensive about joining Paul's classes but now, a few months on, I love every minute. He has taught me the basics of ballroom dances, he has teachers on hand to observe and step in and offer advice as we dance. People thought I would be shy of admitting that I am taking dance lessons (as a retired ship captain) but I am so proud of what I have learnt and will recommend it to everyone.

Richard Taylor
10:04 20 Mar 18
Covid-19 Safe Policy
Donahey's would like to reassure you we are continuing to monitor and fully comply with all UK government guidelines. Since re-opening we continue to have in place pro-active measures, including;
Socially distanced places
Donahey's teachers & team members lateral flow tested twice weekly
All Doors & windows open to circulate fresh air into the ballroom
Pre-booking only
One-way system for arrival & departure
All participants use hand sanitiser upon entry to the lessons
Customers with any symptoms not permitted to attend
You can read our full Covid-19 Secure Risk Assessment here.
Fun & Full of Energy!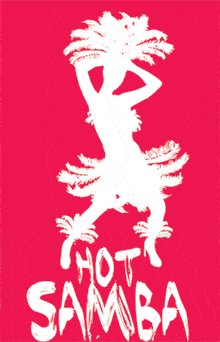 Our Latin In Line classes are fun and full of energy!
Learn the most popular Latin American dances;
Cha-Cha, Salsa, Mambo, Rumba, Merengue,
Samba, Jive, Bachata & many more, we may even throw in a Waltz & a Quickstep
Enjoy expert tuition in the Latin rhythms without the need for a partner with Donahey's Latin In Line Dance class with a difference. Each dance is performed solo in lines.
No previous dance experience necessary.
Just come along & have a go either on your own or bring a friend.
'Step By Step' instruction on a large sprung wooden dance floor;
Great teachers, Great music and a Great atmosphere.
This is a dance class so gym gear not necessary, wear shoes and
clothing you're comfortable in.
Tried Zumba or Fitsteps….?
Did you kind of enjoy Zumba but find the sessions too-fast?
Donahey's Latin In Line could be the answer…
Donahey's Latin In Line Dance class is a fun class designed to be sociable and not as strenuous as Zumba – with the added bonus of making you feel a little fitter and absolutely fabulous.
Our class uses the same great Latino music, the difference is we'll take the time to teach & show you the actual dance steps, building up too great dance routines for you – it's dancing just without a partner. All ages & levels of fitness are welcome.
You'll benefit from the same great health benefits of a Zumba session, it just won't be as high impact.
Health Benefits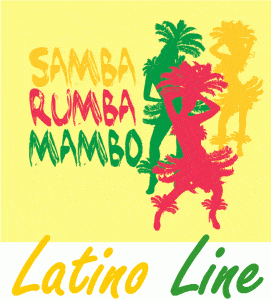 As well as toning your arms, legs and torso dancing is a fantastic cardiovascular exercise, so it's great for building heart strength.
Dancing can help you to burn the fat from the hips, thighs and stomach plus any other places where fat likes to hang around. No fitness jargon, no references to dieting and slimming, no lecturing, just pure fun and feel good dances.
Each lesson will begin with a warm-up session followed by exciting Latin Dance routines and then end with a cooling off session. Who says you have to stick to boring exercise routines and workouts in order to stay in shape?
If you like to dance and keep yourself fit, then our Latin In Line dance class is for you!
Locations of Donahey's Dance Classes
Questions & Answers
Do I need a Partner?
No dancing experience or partners are required as the class will be lined up in a group. All you need do is to move your body to the rhythm and have fun!
I've never danced before can I simply come along anytime?
Donahey's Latin Line dance classes are especially designed for beginners. The dances are taught step by step and are simple to pick up whether you have dancing experience or you are just a beginner, you will be able to follow through the easy dance steps and sway along to the rhythm of the catchy and upbeat Latin music.
I've done a little dancing before, is it suitable?
Sure, this is a great fun and enjoyable dance class.
What shall I wear?
No special footwear or clothes are required and you should wear what you feel is most comfortable, light clothing, trainers, jazz pumps or dance shoes. No high heels, flip flops, steel heels or toe caps please.
How long does the session last?
One hour.
How does the 4-week block booking work?
Once we receive your payment your place is confirmed and you can commence straight away. Your 4 week block runs consecutively.