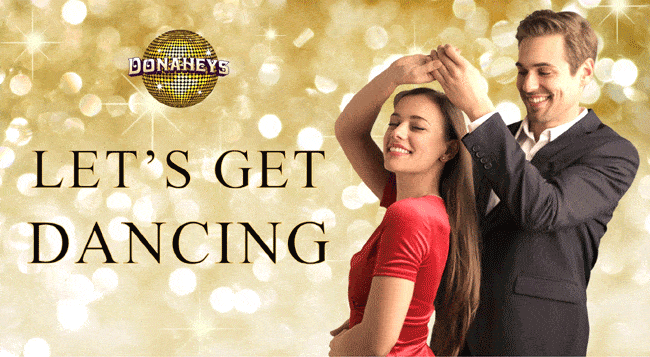 Covid Secure Policy – Updated 25th November 2021
Please be assured Donahey's number one priority is our pupils & teachers safety, and to this end we will always be following the latest UK government guidelines and regulations.
Donahey's continue to work in partnership with our venue management teams towards delivering you safe & enjoyable dance lessons.
Our Plymouth & Kingsbridge weekly lessons are now open, lessons are restricted in numbers and pre-booking is essential.
Donahey's Dance School – Covid-19 Secure Policy & Risk Assessment
Pre-opening
Hall inspected to ensure clean and ready for lesson
Windows & doors opened for fresh air ventilation during the lessons.
Contactless registration desk set-up
Dance In A Day Workshops & Members Dance Evenings
At registration all attendees are required to provide proof of a negative NHS Lateral Flow Test (LFT) taken on the day of arrival. This measure forms part of the government's latest guidance regarding mixing in indoor spaces in England.
Pupil Arrival
Face coverings compulsory for pupils when entering and leaving the building and whilst using the stairwells, foyer and corridors – unless a pupil has exempt status.
Pupils should arrive through the main entrance and proceed one-way into the hall.
Pupils should enter the building on-time for their session and arrive no earlier to avoid congestion.
Pupils should arrive changed and ready to dance with minimal additional belongings. Any personal belongings should be placed in a bag.
Strictly no spectators
Strictly no food to be brought onto the premises, one drink per person.
All Pupils should observe current UK Government Respiratory guidelines 'Catch It, Bin It, Kill It'
Check-In
Pupils spaced 2m apart for check-in.
Only pre-registered pupils with; Name, Telephone number and Email address admitted.
Pupils must pay in advance of attendance, or use contactless payment upon arrival.
A record kept for 'NHS Track & Trace' with who has entered the building together with duration of visit.
Our check in registration requires confirmation that any person entering our premises is well and not showing any symptoms of Covid-19, has not been in contact with an infected person, nor have they recently returned from a quarantine listed country.
Pupils mandatory use of hand sanitiser at check-in.
Lessons
Our lesson planning has been reorganised to limit class size, offer increased distance based on the relevant range of movement and based on cubic meters of each hall (length x width x ceiling height)
No changing partners
Toilet use should be kept to a minimum and strictly limited to one person at a time.
Pupil Departure
Pupils should leave one-way out of the hall, directly through the fire-exit door.
Pupils should not loiter in groups outside following the lesson
Teachers
All teachers issued & trained with Donahey's Covid-19 Safe Policies
All teachers & teaching assistants take a Lateral Flow Test twice weekly and on day of workshops & members evenings.
Teachers are able to wear a face mask or face shield during tuition. Where teachers chose to wear a face mask when physically dancing, teachers should ensure they take regular & frequent breaks without face coverings to ensure they don't start to feel faint due to lack of oxygen.
No teachers to dance with pupils.
Teachers must maintain a safe distance from pupils.
Teachers and Customers are to limit face to face working and physical contact work facing away from each other when possible
Teachers should avoid raising their voices, where possible teachers to use Headset Mic to avoid shouting.
Music played at a low level to prevent shouting.
Accident or Emergency
In an emergency, for example, an accident, provision of first aid or fire, people do not have to stay appropriately distanced if it would be unsafe.
People involved in the provision of assistance to others should pay particular attention to sanitation measures immediately afterwards including washing hands & hand sanitisation.
PPE equipment available for designated first aiders.
Additional Information
All Pupils will receive notification of our health and safety procedures by Email prior to arrival.
This health and Safety document has been expanded from our usual Health and Safety plan and has been created in line with the UK governments guidance on the return of grassroots sport & Coronavirus guidance;
https://www.gov.uk/guidance/working-safely-during-coronavirus-covid-19/providers-of-grassroots-sport-and-gym-leisure-facilities
Donahey's continue to monitor & follow all UK Government guidelines in relation to our dance lessons.
Prepared by: Paul Donaghey
Date of risk assessment: 9th September 2020
Risk Assessment Updated: 8th October 2020, 20th October 2020, 27th November 2020, 2nd December 2020, 11th May 2021, 8th June 2021, 5th August 2021, 21st September 2021, 25th November 2021
Next review due date: 4th January 2022 or sooner as new legislation or UK Government Guidance is issued.
Copyright © 2021 Donahey's Dance School. All Rights Reserved
Refund Policy
Donahey's are organising 'Dance Lessons' with limited places available, plus due to social distancing requirements we have even fewer places available.
To maintain the commercial viability of running those dance lessons, unfortunately we are unable to offer refunds or postponement if guests become unable to attend due to Covid-19, or any other reason, and the dance lesson is still able to go ahead under national & local guidelines.
Unfortunately we would be unable to replace your booking at such short notice.
Learn To Dance In A Day
Should one of our Learn To Dance In A Day's be postponed due to local or national Covid-19 restrictions, we will offer you a no cost transfer to the postponed Dance In A Day at the same venue. Or you may choose to switch to a different weekend or venue the following year – the choice is yours.
Alternatively, if the postponed date doesn't work for you we will offer you a full & immediate refund less a small booking fee.