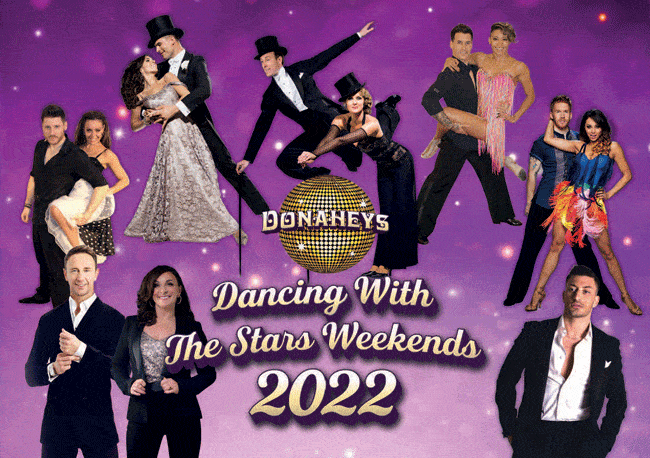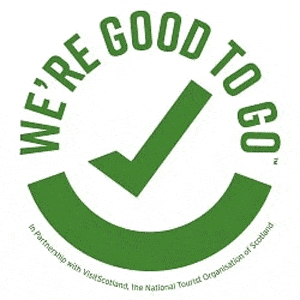 Covid Secure Policy
– Updated 24th June 2022
As always, Donahey's number one priority is our guests, performers, team & contractors safety.
Donahey's continue to work in partnership with venue management teams towards delivering you a safe & fabulous Dancing With The Stars Weekend – something we are all very much looking forward to right now.
We know some of you simply can't wait to get back onto the dancefloor and take part in fabulous workshops and enjoy breathtaking showcases with the Stars.
Our Resort Hotels are all designated 'Good to Go', the industry issued standard that confirms a venue has COVID-safe policies in place. Over the past few months all our venues have returned to providing safe & successful indoor events, operating at normal capacity with dancing allowed.
The below measures will be in place for all Donahey's March, April & July 2022 Star Breaks.
Covid Pass
To provide reassurance to all our guests, performers, team & contractors that we are providing a safe event, at registration we will be asking ALL guests to show;
• Proof they are fully vaccinated or have medical exemption/natural immunity.
AND;
• Proof of a negative NHS Lateral Flow Test (LFT) taken on the day of arrival.
Absolutely no admittance without both.
These measures are in place to help reassure you our valued guests, plus our performers and team, that you and the people around you are protected as best as possible.
Donahey's continue to monitor all UK Government guidelines in relation to indoor seated events of 300-400 guests.
Covid Secure Measures
All guests have a shared responsibility in the safety of our break. As the situation evolves, so will our approach to keeping you safe. We thank you for your patience and flexibility as we manage this and ask that you check back here for any updates.
FACE COVERINGS
In line with current government legislation; In England & Wales Face Coverings are not required, and are optional at your choice.
HAND SANITISER
Please regularly use the hand sanitisation stations that can be found in all public areas, entrances to ballrooms and on your ballroom tables.
SOCIAL DISTANCING
We ask that you still maintain a respectful distance when queuing and moving around resort.
VENUE CAPACITY
Our venues are now operating at normal capacity with table-sharing and dancing allowed. Those of you who have attended previously know, we keep numbers to a comfortable level with plenty of space to dance.
BALLROOM VENTILATION
Windows & doors opened for fresh air circulation in the ballrooms.
CLEANING MEASURES
Cleaning protocols in bedrooms and all public areas are strengthened to focus on High Impact Touchpoint (HIT) cleaning across the resorts.
SYMPTOMS & POSITIVE TESTS
Symptoms which won't be accepted at the event include a high temperature, a new and continuous cough, and sudden loss of taste or smell. If you have symptoms or test positive for COVID-19, you should not travel. More information can be found here on the NHS website www.nhs.uk/conditions/coronavirus-covid-19/symptoms/main-symptoms/
CASHLESS
Our venues no longer accept cash or cheque payments. Payments can be made contactless via card or room charge. Celtic Manor has a mobile app for payments also.
Covid Secure Policies
A copy of Donahey's Events LTD robust Covid Secure Policy can be viewed and downloaded here;
https://www.donaheys.co.uk/wp-content/uploads/Donaheys-Events-LTD-Covid-Safe-Policy-2022.pdf
Safety measures will be in place to ensure the safety and well-being of all our guests, performers and team. You can view each of our Resort Hotels current Covid-19 safety measures & policies here;
www.altontowers.com/plan-your-visit/coronavirus/
www.devere.co.uk/wellbeing/
www.celtic-manor.com/about-your-stay
Booking Cancellation Policy
What if you wish to cancel or postpone your booking upto 10-weeks prior to your break
Upto 10-weeks prior to your confirmed break we are more than happy to offer you a transfer to any of our 2022 Dancing With The Stars Weekends, subject to availability.
There would be a small £25pp administration fee to cover the administration involved in your booking transfer.
If you did wish to cancel your booking, the cancellation fee would be the £100pp non-returnable deposit.
What if you wish to cancel or postpone your booking from 10-weeks prior to your break
100% cancellation charge would apply.
What if your break can go ahead, but as a result of Self-Isolation or Local Government Restrictions you are unable to join us?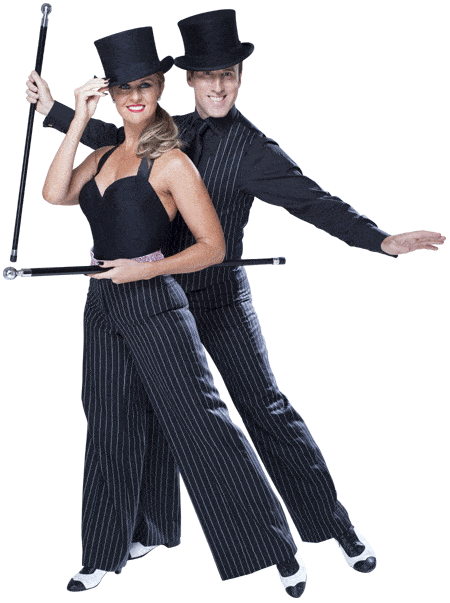 Donahey's are organising a Weekend Leisure Break with limited places available.
To maintain the commercial viability of running our Weekend Breaks with the Strictly Stars and the enormous costs associated with putting on these breaks, unfortunately we are unable to offer refunds or postponement if guests become unable to travel due to Covid-19 and the Weekend Break is still able to go ahead under national & local guidelines. This would become a matter for guests personal Travel Insurance.
If the government imposes restrictions that prevent you from travelling, and the Weekend Break is still able to go ahead under national & local guidelines, this would become a matter for your personal travel insurance.
At 10-weeks prior bedrooms are directly contracted with the Resort Hotel and paid for in full on your behalf, which is our contractual obligation to the Resort Hotels. Unfortunately we would be unable to replace your booking at such short notice.
Personal Travel Insurance policies which includes additional Covid Protection are now available at relatively low cost.
StaySure, LV, AA & CoverForYou offer extensive policies. Donahey's recommends an online search or call to your preferred Travel Insurance provider to discuss your requirements and confirm you are happy with the inclusive Covid cover they offer.
Examples would include but are not limited too;
• A Positive Covid Test
• Feeling Unwell
• Covid Symptoms
• Local travel restrictions
• Quarantine restrictions
• Self Isolation requirements
If you already have an annual travel insurance policy, please confirm with your provider they have included Covid Protection cover.
In line with most UK holiday operators, Donahey's requires guests take out appropriate UK Travel Insurance which covers cancellation due to Covid-19.
For such a low price and your added peace of mind, we strongly advise taking out this protection. Many holiday operators are offering this enhanced Covid Protection cover at an add-on price, unfortunately Donahey's is not licenced to sell Insurance Policies, and are therefore unable to offer this additional paid for cover, our apologies.
What if your Dancing With The Stars Weekend cannot go ahead?
Should our Dancing With The Stars Weekend be postponed due to local or national Covid-19 restrictions affecting the resort hotels locality, we will offer you a no cost transfer to the following years Dancing With The Stars Weekend at the same venue, over the same weekend next year.
You may instead choose to switch to a different weekend or venue the following year – the choice is yours.
Alternatively, if the postponed dates don't work for you we will offer you a full & immediate refund less a booking fee towards the direct costs incurred with your booking.
We would of course love you to continue to enjoy looking forward to spending a weekend with the Strictly Stars, so all 2023 supplier cost increases will be absorbed on postponed bookings.