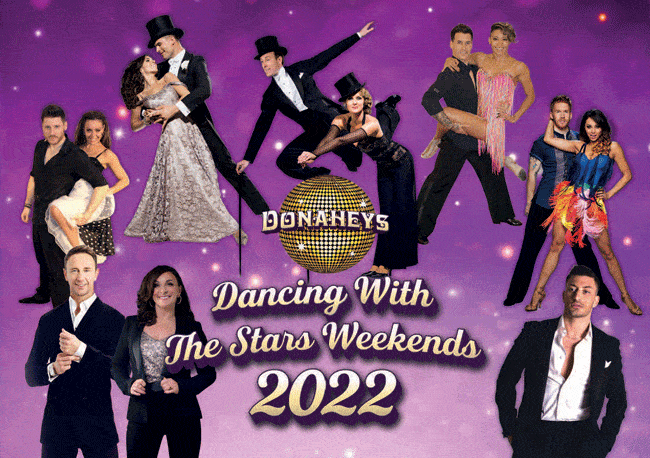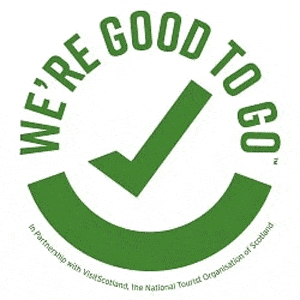 Covid Secure Policy
– Updated 21st September 2021
Please be assured Donahey's number one priority is our guests, performers & team safety.
Donahey's continue to monitor all UK Government guidelines in relation to indoor seated events of 300-400 guests, Donahey's will always be following the latest UK government guidelines and regulations.
Our Resort Hotel's are all designated 'Good to Go', the industry issued standard that confirms a venue has COVID-safe policies in place.
Donahey's continue to have the full backing of the Directors & Managers of our Resort Hotels towards delivering you fabulous & safe Dancing With The Stars Weekends in 2022 – something we are all very much looking forward to.
Exact COVID-safe measures that will be in place will be announced prior to your attendance. Until then, here's an idea of what it could look like based on the current COVID-safe measures at Celtic Manor Resort Hotel:
Cashless. You can only pay by debit/credit card and contactless payment.
Social distancing. One-way systems directing guests and clear social distance markings in public areas.
Sanitary stations. Multiple hand sanitising stations across the venue.
Robust cleaning and sanitising. Focused on High Impact Touchpoint (HIT) in bedrooms and public areas. Cleanliness and hygiene has always been a priority for the Celtic Collection. Working with cleaning partner Diversey, cleaning protocols in bedrooms and all public areas will be strengthened to focus on High Impact Touchpoint (HIT) cleaning as a result of the COVID 19 pandemic.
Face coverings. In line with Welsh Government regulations, face coverings must be worn in all indoor public spaces within Celtic Manor. Face coverings may be removed when seated to eat and drink, when dancing, when using the health club gyms and pools, and when enjoying a spa treatment.
Advanced staff training. In health and safety protocols, including the provision of personal protective equipment and wearing of face masks for staff in public areas. As a condition of returning to work, team members will be health screened, and required to complete an e-learning course on the Prevention and Control of Infection in the Workplace.
From 17th May 2021 onwards, Hotel chains such as Warner Breaks & TLH Leisure, plus UK Leisure Break providers such as GN Holiday's are all resuming their 'Entertainment Leisure Breaks' – both in a socially distanced manner and in line with current UK government guidelines.
Will I need a Covid Passport?
Donahey's continue to follow & review UK government guidelines regarding Covid Passports for indoor seated events of 300-400 guests.
Please rest assured we will always follow government reccomendations and guidelines. Additionally, as a team we continue to have discussions on the suitability & practicality of introducing a Covid Passport for our weekend breaks, and continue to monitor similar organisations & breaks like Warner Breaks, Entertainment Leisure Breaks etc
All our guests will be required to confirm their good health, absence of any symptoms of Covid-19 and that any recent international travel conforms with UK quarantine guidelines, as a condition of their visit. All guests must follow the advice of the UK government. https://www.gov.uk/coronavirus
Should we need to or choose to introduce Covid Passport we will advise guests in advance of attendance.
Covid Secure
Social distance policies and additional safety measures will be put in place by both Donahey's and our Resort Hotels to ensure the safety and well-being of all our guests, performers and team.
You can view each of our Resort Hotels latest Covid-19 safety measures & policies here;
www.altontowers.com/plan-your-visit/coronavirus/
www.devere.co.uk/wellbeing/
www.celtic-manor.com/about-your-stay
We will keep in touch with all our guests to keep you fully informed and the enhanced safety measures that Donahey's and our Resort Hotels will have in place.
Please bear with us as we try to balance and implement the ever changing guidance and regulations, with our desire to provide a warm and friendly welcome to all of you who have chosen to join us.
Booking Cancellation Policy
What if you wish to cancel or postpone your booking upto 10-weeks prior to your break
Upto 10-weeks prior to your confirmed break we are more than happy to offer you a transfer to any of our 2022 or 2023 Dancing With The Stars Weekends.
There would be a small £25pp administration fee to cover the administration involved in your booking transfer.
If you did wish to fully cancel your booking, the cancellation fee would be the £100pp non-returnable deposit.
What if you wish to cancel or postpone your booking from 10-weeks prior to your break
100% package rate cancellation charge would apply.
What if your break can go ahead, but as a result of Self-Isolation or Local Government Restrictions you are unable to join us?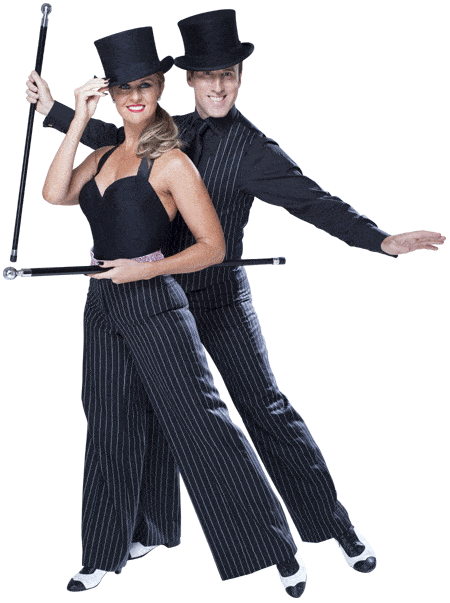 Donahey's are organising a Weekend Leisure Break with limited places available, plus due to social distancing requirements we now have even fewer places available.
To maintain the commercial viability of running our Weekend Breaks with the Strictly Stars and the enormous costs associated with putting on these breaks, unfortunately we are unable to offer refunds or postponement if guests become unable to travel due to Covid-19 and the Weekend Break is still able to go ahead under national & local guidelines. This would become a matter for guests personal Travel Insurance.
If the government imposes restrictions that prevent you from travelling, and the Weekend Break is still able to go ahead under national & local guidelines, this would become a matter for your personal travel insurance.
At 10-weeks prior bedrooms are directly contracted with the Resort Hotel and paid for in full on your behalf, which is our contractual obligation to the Resort Hotels. Unfortunately we would be unable to replace your booking at such short notice.
Personal Travel Insurance policies which includes additional Covid Protection are now available at relatively low cost.
StaySure, LV, AA & CoverForYou offer extensive policies. Donahey's recommends an online search or call to your preferred Travel Insurance provider to discuss your requirements and confirm you are happy with the inclusive Covid cover they offer.
Examples would include but are not limited too;
• A Positive Covid Test
• Feeling Unwell
• Covid Symptoms
• Local travel restrictions
• Quarantine restrictions
• Self Isolation requirements
If you already have an annual travel insurance policy, please confirm with your provider they have included Covid Protection cover.
In line with most UK holiday operators, Donahey's requires guests take out appropriate UK Travel Insurance which covers cancellation due to Covid-19.
For such a low price and your added peace of mind, we strongly advise taking out this protection. Many holiday operators are offering this enhanced Covid Protection cover at an add-on price, unfortunately Donahey's is not licenced to sell Insurance Policies, and are therefore unable to offer this additional paid for cover, our apologies.
What if your Dancing With The Stars Weekend cannot go ahead?
Should our Dancing With The Stars Weekend be postponed due to local or national Covid-19 restrictions affecting the resort hotels locality, we will offer you a no cost transfer to the following years Dancing With The Stars Weekend at the same venue, over the same weekend next year.
You may instead choose to switch to a different weekend or venue the following year – the choice is yours.
Alternatively, if the postponed dates don't work for you we will offer you a full & immediate refund less a booking fee towards the direct costs incurred with your booking.
We would of course love you to continue to enjoy looking forward to spending a weekend with the Strictly Stars, so all 2022 supplier cost increases will be absorbed on postponed bookings.