Zumba®

Zumba® 5-class Pass
All our Zumba® Fitness classes are priced at £6 per class, or you can pre-book here at the discounted rate of just £25 for 5 Zumba classes.
Donahey's are Tameside's No 1 provider of Zumba® Fitness classes, currently offering 7 Zumba® Fitness classes to hundreds of people across Tameside each & every week.
Book by Credit/Debit Card
Please note this will incur a £1 paypal debit/credit card booking fee per person.
Book by Post
Simply post a cheque out to cover the £25, payable to Donahey's c/o Donahey's, PO Box 209, Ashton-U-Lyne, Lancashire, OL6 OAG. Please remember to include participant's names, start date & contact details including phone No.
Book by Phone
Unfortunately we don't have credit card facilities to enable us to accept telephone payments.
Zumba® is the hottest fitness around!
Dance, have fun, and get a great whole body workout!
You can burn up to 1000 calories per class
– now let's get shakin'!
Zumba® fuses hypnotic Latin rhythms with easy-to-follow moves – the most fun you'll ever have while working out guaranteed – just feel the music and let loose. Zumba® is currently one of the World's fastest growing fitness programmes, with an astonishing 7 million people taking Zumba® classes worldwide every week.
Come along and enjoy the 'real Zumba® party atmosphere' in Tameside's most impressive venues featuring amazing staging, lighting and sound – all with real sprung maple-wood dance floors.
Donahey's fabulous weekly Zumba® classes
in Tameside are suitable for all ages and levels of fitness.
Did you know?
Our Zumba® class guarantees to burn
between 650-1,000 calories, helping to sculpture,
strengthen & tone your body!

Salsa, Reggaeton, Merengue, Calypso,
Cha Cha, Mambo, Samba & much much more!
You've tried the rest, now try the best, and join the hundreds of people in Tameside who take one of Donahey's fab Zumba® Fitness classes each and every week….
Donahey's are the Latino dance experts and have been teaching Latin, Salsa & Salsacise dancing in Manchester for over 43 years.  Make sure you choose Donahey's Zumba® fitness classes and benefit from our years of dance experience.
Our team of ALL female instructors are highly experienced Dancers, Teachers and Choreographers. They are ALL Zumba® trained & qualified members of the Zumba® Instructor Network and attend monthly instructor training sessions to ensure you're receiving the BEST Zumba® instruction in Tameside.
Our teachers use state of the art sound systems, with headset
microphones so you can hear what they're saying and of course they're ALL fully insured.
- don't settle for less!
All Donahey's Zumba® Fitness classes last for ONE full hour and our impressive venues are selected for their top-of-the-line sprung maple wood dance floors – the very best floor to cushion & protect knees, ankles, hips & other joints in the body during exercise.
Absolutely no School Halls, Gym floors, carpets, tiles or concrete – the importance of dancing on proper flooring is essential.  The best & safest way to move freely & easily during exercise is on a sprung maple wood dance floors smooth & solid surface.
Amy Donaghey, Freda Sutton, Laura Blain & Tanya Silvester, our Zumba® team look forward to welcoming you to one of our professional weekly Zumba® classes.
Donahey's Weekly Zumba® Fitness Classes…

Spaces are available at all our Tameside Zumba® Fitness classes below,
just come along a few minutes beforehand;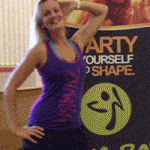 Monday 6pm
Join Amy at Dukinfield Town Hall every Monday
Venue info, 360 tour & map
Free jugs of iced water available for refreshments.
Wednesday 7.30pm
Join Laura at Dukinfield Town Hall every Wednesday
Venue info, 360 tour & map
Free jugs of iced water available for refreshments.
Classes only £6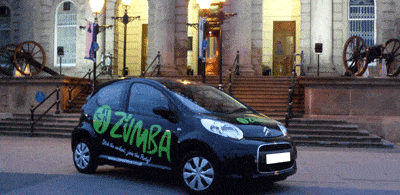 Donahey's one hour Zumba Fitness classes are all priced at just £6 each, or pre-book here at just £25 for any 5 Zumba classes. Spaces are available at all our classes so you are welcome to just turn up.
Checkout Donahey's Zumba® Fitness class film here
Let your friends on Facebook know about our movie…
Photo's of Donahey's Zumba® Fitness classes at Hyde Town Hall
Customer Testimonials

Below are some comments from our Zumba® Fitness customers;
First exercise for ages.  Even as an OAP I enjoyed myself.  Sheila

Great fun, exhausting workout!  Brilliant choice of music.  Gill

FABULOUS!!!

Great fun, don't feel like you are working out

Brilliant.  Mags

Enjoyed myself, hope to loose loads of weight & loosen up.  Super

A great way to loose weight & get fit.  Ami

Great music, Great fun and we're burning calories at the same time.  BRILL!!  Jan

Brilliant, see you next Monday!

Good class, best exercise possible.  Lisa

Best fun you can have while exercising – would definitely recommend!!

Great fun and a good routine with a brill teacher.  Louise & Fiona

Good fun and great for getting fit.

Really enjoyed it – 2nd time here I'll come again.  Jackie

Really enjoyed the workout, loads of fun.  Looking forward to getting into my old cloths lol.  Elaine

Brilliant class, enjoyed every minute.  Lynne

Great workout, but more fun!

What a brilliant way to burn off calories, love love Zumba!

Loved it – all that I hoped it would be.
Fitness Dance Trainer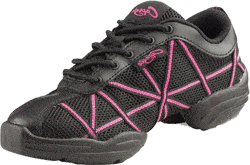 Order your ideal Fitness Dance Trainer with us here online for collection at your next Donahey's Fitness class – guaranteed
Gift Voucher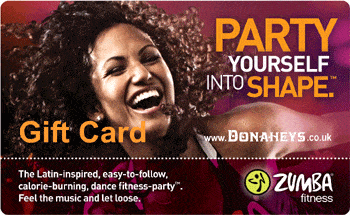 Gift Voucher – A fabulous gift idea for family and friends.
Donahey's 5-week Zumba® Fitness class pass Gift Voucher entitles the holder to attend any one of Donahey's fabulous weekly Zumba classes held in prestigious venues across Tameside
Questions & Answers
Can i just turn up or do i need to pre-book?
Spaces are available at all our classes so you are more than welcome to simply turn up at your chosen class, just try and arrive 5mins beforehand.
Alternatively you can pre-book here online at the discounted rate of £25 for any 5 Zumba® Fitness classes.
What shall I wear?
Acceptable shoes for Zumba® Fitness classes include court shoes, aerobic shoes or jazz shoes/sneakers. They should have minimal tread on the sole and provide optimum cushion and support for dance-fitness classes.   Running shoes are not ideal because they have a heavy tread on the bottom and are designed for forward movement (not sliding and pivoting)
Strictly no heels, flip flops, steel heels, toning trainers or toe caps please.
Most people tend to wear gym clothes, something you feel most comfortable in -  light clothing, trainers, or pumps.
How long does Donahey's Zumba® Fitness class last?
All Donahey's Zumba® Fitness classes last one full hour – unlike some other local Zumba® Fitness classes which just give you 40/45 minutes!
I've never danced before can I simply come along anytime?
Our Zumba® classes are especially designed for beginners, Zumba® is so simple to pick up that whether you have dancing experience or you are just a beginner, you will be able to follow through the easy dance steps and sway along to the rhythm of the catchy and upbeat Latino Rhythms.
Am I going to look daft if everybody else knows the moves?
Not at all, Zumba® Fitness is a fun follow along class – just turn up feel the music and let loose – you'll love it.
Who can participate?
Whether you are an avid exerciser who wants to spice up your current fitness routine or you are rejoining the fitness scene after a break…. Zumba® Fitness class is for you!  If you love to move and enjoy music then Zumba® Fitness class is what you need.
My child really wants to come along too?
We warmly encourage and welcome well behaved children 12 & over to attend any of our Zumba® Fitness classes.  They must though of course be accompanied at all times by a responsible & participating adult – no persons under 16 are permitted to be dropped off unaccompanied.
As a nice gesture, we are pleased to offer a discount for children 12-15yrs; if you book our 5-class pass for them, simply email us and let us know one of the payments is for a child and we will boost their booking to a 6-class pass with our compliments.
What if I can't follow the steps at first, but I like the class and the music?
The great thing about Zumba® is there are very few rules; just dance a little, laugh a little and sweat a lot…and just keep moving.  As long as you are moving you are working.  Just have fun with this class. You'll soon learn that exercises really can BE FUN!  Each week builds upon another; with time and practice you will soon see how quickly you will master new movements.
What shall I bring?
You'll probably need a bottle of water and some participants bring a towel- you will sweat!
I haven't exercised in a while will I be able to keep up?
Remember to go at your own pace.  The class is structured so that beginner and more advanced level students can work at the same time.  Everyone in the class is coming from different fitness and health backgrounds. You only need to be concerned with yourself and your abilities and health.  If you do have any medical conditions, injuries or if you are taking any medications that effect heart rate please seek advice from your physician prior to participating.
I've done a little salsa before, is it suitable?
Sure, this is a great fun way to keep fit.
Do I need a Partner?
No dancing experience or partners are needed, as the class will be lined up in a group. All you need do is to move your body to the rhythm and have fun!  Combining salsa dance and group exercise to improve your fitness level this class is for all ages and guaranteed fun.
How does the 5-week block work?
We're pleased to say we're re-introducing our popular 5-week discounted block scheme – at an even better price than last time of just £25 for 5 classes – meaning each class is just £5.
Put simply, you get 5 class credits which you can use at any of our Zumba fitness classes, with guaranteed entry – your 5 credits just expire within 5 weeks.
If you're going away on a vacation holiday, just let us know and we'll roll those weeks over for you.
Your 5-week block will run consecutively, this allows you to take part in any one of our weekly Zumba® Fitness classes each week with guaranteed entry. So you don't miss out, if you are unable to make your regular Zumba® class you are more than welcome to come along to any one class that same week. Plus for flexibility, if you miss a week you are always welcome to catch up the following week and take 2 Zumba® classes.
The '5-week block' is available to purchase at any of our weekly classes using cash or cheque or here online with debit/credit card.
Missed/lost weeks other than for pre-booked vacation holidays are unable to be carried forward. Unfortunately this cannot cover minor illnesses, conflicting interests or holidays after they have happened.
Donahey's Tameside Zumba® Fitness classes – great fun guaranteed
Zumba® – let the party begin
Zumba® Fanatics achieve long-term benefits while experiencing an absolute blast in one exciting hour of calorie-burning, body-energizing, awe-inspiring movements meant to engage and captivate for life!
As of May 2010, Zumba® is being taught at over 60,000 locations in 105 countries, has sold millions of DVDs, and has changed the lives of Zumba® Fanatics worldwide.
ZUMBA®, ZUMBA FITNESS® and the Zumba Fitness Logo are registered trademarks of Zumba Fitness, LLC, used under license.  www.zumba.com
Your Donahey's Zumba® Fitness team
Amy Donaghey ZIN 91099
Freda Sutton ZIN 110863
Laura Blain
Tanya Silvester ZIN 148295
www.donaheys.co.uk, www.tamesidezumba.co.uk, www.tamesidezumba.com, www.zumbatameside.com & www.zumbatameside.co.uk is owned and operated by Mr & Mrs Donaghey, a licensed member of the Zumba Instructor Network. Please visit my profile at https://www.zumba.com/en-US/profiles/91099/