Ballroom and Latin


Making A Booking
6-week blocks are priced at £40 per person.
Book by Credit/Debit Card
Simply select which course you would like to start, the date, & tell us your names, then select the Add To Cart button below. This will direct you to our secure Paypal site where you can adjust the quantity as required.
Please note this will incur a £1 paypal debit/credit card booking fee per person.
Book by Post
Simply post a cheque to cover the £40 course fee, payable to Donahey's c/o Donahey's, PO Box 209, Ashton-U-Lyne, Lancashire, OL6 OAG. Please remember to include participant's names, course name, start date & contact details including phone No.
Book by Phone
Unfortunately we don't have credit card facilities to enable us to accept telephone payments.
Learn to dance all the fabulous
Ballroom & Latin dances as seen on TV
'Everyone should go out and join a dance class, it's the most fun in the world' BBC Strictly Come Dancing.
'I never thought i could dance, it's changed my life' BBC Strictly Come Dancing.
Enjoy expert dance tuition in Tameside & Stockport's most prestigious ballroom's. Our brand new absolute beginners Strictly Dancing courses will be teaching you a fabulous selection of the world's most popular Ballroom & Latin dances, including the Waltz, Foxtrot, Quickstep, Cha Cha, Jive, Rock 'n' Roll, Argentine Tango, American Smooth & much much more.
This course is just perfect for every social occasion; Weddings, Cruises, Dinner Dances, Holiday's. Our easygoing relaxed adult beginners courses run for 18 weeks and partners aren't essential.
During these weeks we'll be teaching 6 Latin American dances & 6 Ballroom dances. Our course is broken into 3-week sections, each covering one Latin American dance & one Ballroom dance.
New 2013 Beginner Classes – Book Now
Step into 2013 with our new
Ballroom & Latin beginner dance courses….
Tuesday 21st May '13, 7.30pm – 8.30pm
Hyde Town Hall Venue info, 360 tour & map
Free jugs of iced water for refreshments available.
Wednesday 22nd May '13, 7pm – 8pm
The Moor Suite, Heaton Moor, Stockport
Venue info & map
Please bring along your own refreshments.
Payment is in 6-week consecutive blocks priced at £40pp, starting from the first week you attend.
Limited places are available, once we receive your payment your place is confirmed and you can commence your course.
Great flexibility – 3 classes to choose from!

Yes, thats right – only Donahey's offers you the chance to catch up your class if you missed your regular class.
We teach the same steps all week at all 3 of our Ballroom Beginners classes, so for example if you usually attend Monday but end up working late then you can just turn up Tuesday or Wednesday and learn exactly what we taught on Monday – just perfect so you don't miss out – especially with 3 Ballroom Beginner classes a week to go out.
It really doesn't matter which venue you attend, same steps, same teachers, plus you don't even need to let us know – just turn up to one class each week and you'll learn to dance…easy.
If you are planning a vacation holiday during your 6-weeks just let us know in advance, and we'll carry those weeks forward for you.
Learn to Dance in a Day
Walk in…dance out…the fast & fun way to learn to dance!
Can't commit to weekly evening dance lessons?
Take a look at these fab weekend daytime Adult Beginner Ballroom Lessons?
Next Date – Saturday 23rd Nov '13

Customer Testimonials
Below are some comments from our most recent beginners Strictly Dancing course;
'Great night out and an enjoyable way to learn'

'Can't wait to move onto the next class' Phil & Wendy

'Really good teaching and an enjoyable relaxed atmosphere'

'Best thing i have ever done' Ian & Wendy

'We come a long way for our beginners class & it's worth every minute on the M60! Brilliant!'

'Total beginner, made to feel at ease, enjoy the experience, meet new people – fun' Cathy & Mike

'Great fun! Great company! The dancing's good too'

'Love the classes, so much fun. Look forward to them every week' Alex

'Great value – really enjoy it' Deon

'It never occurred to us that the whole of Tameside was learning to dance – this is where the party's at!! Thanks!' Michaela & Ryan

'Easy to follow classes with a good atmosphere, look forward to the next dances' Vicci & Jon

'Great fun and great teachers. Really good exercise too!' Andy
Checkout our Adult Ballroom & Latin Beginners Class film here
Let your friends on Facebook know about the film…
Photo's of Donahey's Ballroom & Latin Dance Classes
Course Information
Once you've completed your initial 6-week pre-paid block we hope you'll continue with your strictly dancing & sign up for the following 6-week block. Your 6-week consecutive block commences the week you begin the course. Unfortunately though, missed/lost weeks other than for vacation holidays are strictly non transferable.
Once the 18 weeks are complete, the course will then repeat itself to cover the dances for those that have joined mid-course. For those of you that are interested in reviewing the dances already learnt you are more than welcome to stay on the course, and for those that would like to extend their knowledge of the dances learnt, you may join our intermediate class subject to availability.
Ballroom & Latin Dancing Course Companion DVD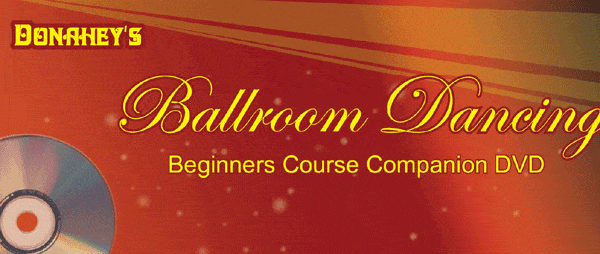 We now have available our very popular Donahey's Ballroom & Latin dancing course companion DVD.
Featuring all 14 dances taught on our beginners course; Ballroom, Latin, Argentine Tango, American Smooth & much more all shown step-by-step, filmed at Ashton Town Hall by Paul & Amy Donahey. The DVD benefits from a full practice soundtrack, it really is a Donahey's exclusive – your ideal practice companion.
This DVD is priced at just £25 and is exclusively available to Donahey's members who are currently enrolled in our beginner Ballroom dancing courses.
FREQUENTLY ASKED QUESTIONS
I've never danced before is this course suitable?
All our courses are especially designed for beginners so don't worry we'll be teaching you throughout the lesson, one step at a time.
What shall I wear?
Something comfortable, flattish shoes preferably not trainers. No high heels, flip flops, steel heels or toe caps please.
Do I need a Partner?
No, as we partner people up with our teachers, assistants and the many others who come without a partner.  If you join as a group of friends, we may ask you to partner each other up – this way it's more fun for you all & you can practice with each other when you're out & about!
Do you change partners during the class?
During all our dance classes, we start by teaching the steps solo, then we partner you up together, then we change partners for a short while (no one is left without a partner), then we partner you back up together.
Changing partners during class is the quickest way to improve your dancing, it makes men more positive leaders and ladies more receptive to your partner
Not least it relieves some of the pressure of dancing together if one of you is struggling, it makes the class much more fun & sociable for you, plus you both learn through dancing with our teachers, assistants & other members of the class.  Trust us, it works, that's why we do it – leaving two beginners dancing together for an hour can be extremely frustrating for both of you, and not much fun! 
We can assure you though, you will always finish the lessons dancing & practicing with your partner.
How long does the class go on for?
One hour.
Do i need to pre-register?
Yes, you'll need to reserve your place & make full course payment in advance in order to be sure of a place on the night.